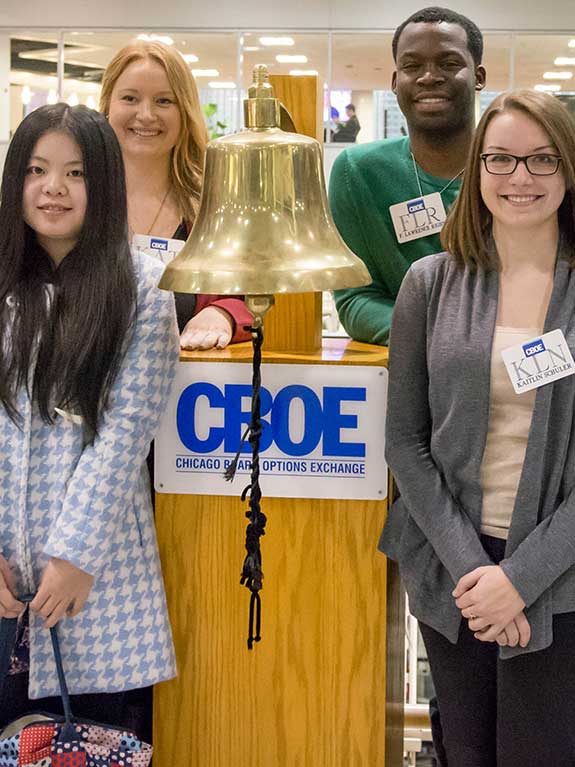 Business, Economics and Money
Business journalism is a dynamic and challenging field where reporters document, analyze and interpret economic activities to create stories with immediate impact. Reporters dive into stories about people, topics and events that shape the world from a financial perspective. Business journalists examine issues that matter not only to CEOs who are deciding their company's strategy but also to consumers who are deciding whether to purchase a big-ticket item such as a car or a home. Business journalists convey what is sometimes complex financial and economic information in a way that is understandable to a wide audience, allowing citizens to make informed, thoughtful decisions. All this makes business reporters valuable, well-compensated members of media organizations.
About the specialization
Your courses in the business program will be at our downtown Chicago campus and will be paired with reporting in the third-largest U.S. city that is home to major companies and key financial markets. You will have the option to travel and report from Tokyo during the winter quarter. You'll also spend time during the spring quarter in New York City visiting financial media outlets, meeting accomplished Medill alumni, talking with executives about their companies and more.
Six $30,000 scholarships are available to students accepted to the specialization. These will be awarded based on merit.
Why Business, Economics and Money?
When you graduate with your master's degree, you will be qualified to work in the most highly paid and sought-after segment of the media – business journalism. The median annual salary for business reporters and correspondents is 38% higher than the average journalist, according to government statistics and a 2023 survey by the Donald W. Reynolds National Center for Business Journalism. More than 71 percent of business reporters said their salary had increased, according to the Reynolds survey.
Medill graduates have gone on to be some of the most successful and high-profile business reporters, editors and producers working today around the world, from the former editor-in-chief of The Wall Street Journal to on-air talent at CNBC to many other media outlets, including The New York Times and Bloomberg.
What will I learn?
You'll learn the fundamentals of finance, accounting, the stock and bond markets, personal finance, government finance and agencies such as the Securities and Exchange Commission and much more. You'll apply that knowledge to hands-on reporting to tell insightful and informative stories. Having this knowledge and these reporting experiences will give you an edge when looking for a job after graduation and widen your options to include not only business journalism but other areas of journalism, such as the business of sports, the business of health, the business of the environment and more.
In addition to discussions, workshops and reporting, you'll participate in onsite training, have compelling conversations with experienced journalists and go behind the scenes at top media companies.
You'll also work with award-winning business journalism faculty from top-tier media outlets who have taught and mentored students for many years.
Who will I meet?
In addition to our Chicago campus that puts you at the center of business action, Medill has a broad and enthusiastic alumni network. Everywhere you turn, our alumni are leading business journalism reporting. We have a board of alumni who are advising Medill on this specialization.