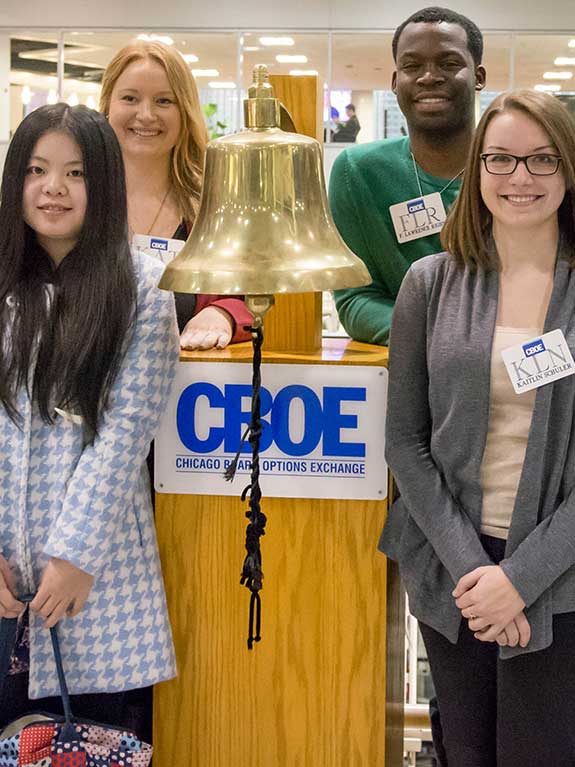 Business, Economics and Money
Money is at the heart of so many of the stories that move our world: who has it, who doesn't and who is affected.

That's why Medill offers a specialization dedicated to teaching reporters how to uncover financial stories and present them in ways that help their audience understand their critical importance. Business, Economics and Money will ground you in the basics of these three areas in ways that are applicable not only to covering public companies and the markets but also other beats. You'll spend your time uncovering stories and telling them in creative and engaging ways. And you don't have to be an economist – having comfort with basic numeracy is enough to get you started.

Medill graduates have gone on to be some of the most successful and high-profile business reporters, editors and producers working today, from the editor-in-chief of The Wall Street Journal to on-air talent at CNBC to many other media outlets. Some of these alumni serve on a board that guides this specialization.

Medill's program is unlike any other, combining the unparalleled excellence of a Medill education with one of the most exciting topics today: how money moves our lives.
About the specialization
Your time in the classroom at our downtown Chicago campus will be paired with getting out and reporting in the third largest U.S. city and home to major businesses and key financial markets. You'll balance your time learning journalism and business, economic and monetary fundamentals with exploring the city and finding stories to tell.

The specialization starts in the summer quarter. Six $30,000 scholarships are available to students accepted to the specialization. These will be awarded based on merit.
Why Business, Economics and Money?
Journalists who can understand numbers and succinctly and clearly explain the impact of those numbers are highly sought after by media outlets of all types. Career opportunities in business media, content creation, digital and multimedia reporting and social media are growing as consumers seek more meaningful information on how money moves their lives. A survey conducted in June 2022 by the Donald W. Reynolds National Center for Business Journalism found that business journalists in the U.S. earn nearly $18,000 more than their peers.
What will I learn?
At Medill, you'll learn from experienced faculty who've seen business coverage evolve over the years and who know how to use the latest tools to report on breaking news and trends. You'll get hands-on reporting experiences, have the chance to participate in onsite training, attend guest lectures by experienced journalists and go behind the scenes at top media companies. You'll graduate with an impressive portfolio. Specifically, you'll learn:
How to read and report on companies' financial statements.
How to find financial and legal information in government and public filings.
How the equity, bond and derivatives markets function.
How decisions made by the Federal Reserve impact individuals, companies and the federal government.
The short- and long-term impacts of financial decisions.
How the allocation of money indicates what the priorities are of individuals, companies, society and governments.
Much more.
Who will I meet?
In addition to our Chicago campus that puts you at the center of business action, Medill has a broad and enthusiastic alumni network. Everywhere you turn, our alumni are leading business journalism reporting. We have a board of alumni who are advising Medill on this specialization.