An interview with IMC Online student Wendy Hidenrick (IMC15)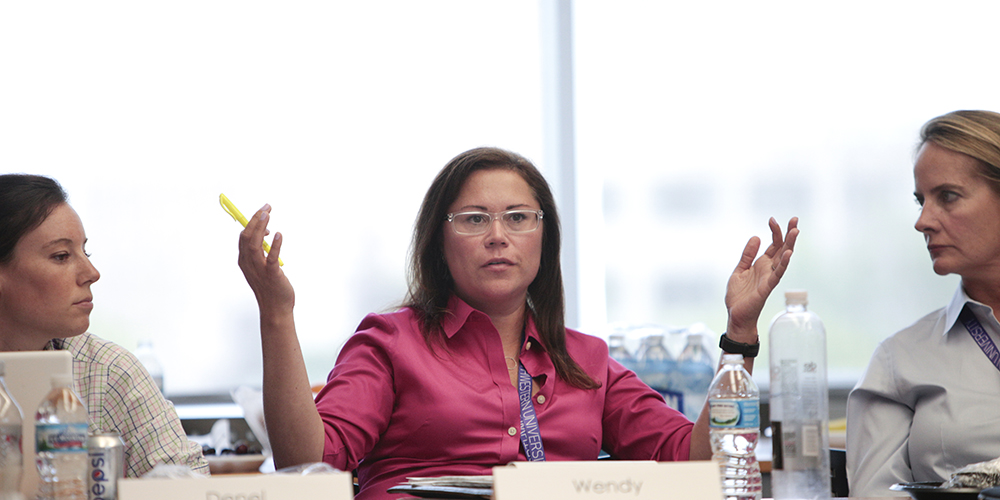 Wendy Hidenrick is a current student in the IMC Online program. In this Q&A, she reflects on her experience in and information gained from IMC thus far and how it has transformed her understanding of marketing.
Q: Anything relevant to your IMC courses that has been in the news recently?

A: Outside of class, based on the concept of transmedia storytelling, I notice great media executions more readily.  I am able to say why a certain campaign permeates your consciousness more than others, in particular the Michigan Tourism campaign "Pure Michigan." They tell a story and take you through visceral images of a relaxing life. This theme runs throughout all the mediums (OOH, Digital, Radio, etc.) and is incredibly well done.

Q: What are your hobbies outside of the classroom?

A: My hobby outside of class is wine.  In 2004 I received my Associate Sommelier Diploma through the International Sommelier Guild.  For a year I did wine sales, and it wasn't as romantic as I thought it would be.  HA!  Today I simply try to enjoy it.

Q: What's been the most valuable insight from the IMC Online program thus far?

A: As a long time (15+ years) media seller, I thought (prior to the program) that a marketer sat around all day worrying about their media buys.  HA!  The most valuable insight from the IMC online program came from Judy Franks, Media Economics & Technology 461.  Judy, with a long time tenure at Starcom, helped me understand that media is only one aspect of the eco-system that makes up the concerns of marketers.  She also brought forth new ideas as it relates to innovative media executions (transmedia storytelling) and what to look for in a media company for the future.
 
Q: What's been the most valuable class you've taken?

A: Therefore, Judy's class was also my most valuable class because it was structured around a world I could relate to.  It served as a sounding board for all the frustrating aspects of the media business (e.g., trading desks) from a media seller point-of-view and helped expand and put words to trends I was seeing (consumers as "media managers") for myself.

Q: What has been the biggest surprise of the program?

A: The biggest surprise of the program was not that marketers don't sit around thinking of media all day long, but the concept of price elasticities & pricing strategies.  I have seen brands' pricing strategies through researching a brand's business challenges and through their media communications.  Sometimes the decisions a brand would make, such as increasing pricing for a line of business in duress, would not make any sense to me.  Now I understand why a brand, which would appear as if it is thwarting its own efforts, would increase pricing from the elasticities point-of-view.