AP's Kathy Gannon honored with medal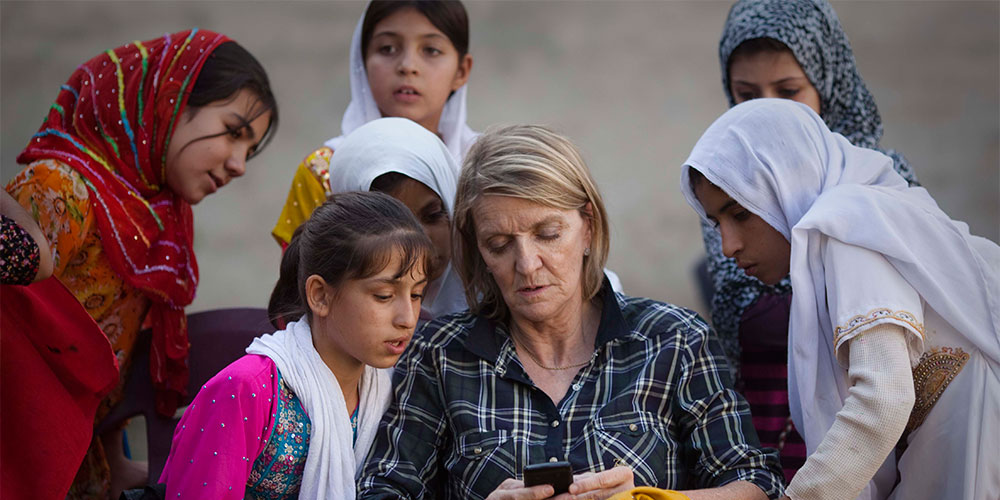 The 2014 winner of the James Foley Medill Medal for Courage in Journalism is Kathy Gannon, a correspondent for the Associated Press who has spent more than 20 years covering the Middle East.
Gannon has been reporting in Afghanistan for decades. She witnessed the Taliban take power in 1996 and reported on the American invasion following the Sept. 11 attacks.
On April 4, 2014, while reporting on elections in the province of Khost with AP photographer Anja Niedringhaus, an Afghan police officer walked up to the car Gannon was traveling in and fired an AK-47 into the backseat. Niedringhaus was killed. Gannon, shot six times, was badly wounded. It was the first known case of a security insider attacking journalists in Afghanistan.
Still recovering from her injuries and grieving for her colleague, who she had been working with since 2009, Gannon continued to write about Afghanistan. Two months after the attack, she wrote about the prisoner exchange between the United States and the Taliban.
Gannon said she's honored to be chosen for the medal.
"I think it's a great honor to have your body of work recognized and to have it described as courageous," she said.
Much of Gannon's work has been in Afghanistan, but she has reported from around the Middle East and Central Asia. Support from the AP has helped make her work possible.
"The AP has been spectacular in their support and their willingness to do the stories I thought were important," she said. "Year after year, they stuck with me."
The medal is given to the individual or team of journalists, working for a U.S.-based media outlet, who best displayed moral, ethical or physical courage in the pursuit of a story or series of stories. Gannon was the unanimous choice among the judges.
The selection committee included Medill Board of Advisers members Ellen Soeteber (BSJ72), former editor of the St. Louis Post-Dispatch, and Richard Stolley (BSJ52, MSJ53), former senior editorial adviser for Time Inc., as well as Medill Professor Donna Leff. Judges said her longtime work in a volatile region is impressive, but also her resolve to continue working as a journalist in Afghanistan after the April 2014 attack exemplifies the kind of work the medal was created to honor.
Gannon's entry "comes on top of a long, brave and distinguished career spanning decades," Soeteber said. "She's a veteran dedicated to telling the story."
In an October 2014 interview with the AP, one of her first after the shooting, Gannon said she and Niedringhaus were not "cavalier or careless about security arrangements" and that the experience would not stop her from continuing to tell the Afghan story. And, she said, Niedringhaus would have been equally determined to continue their work.
"I know she felt exactly like I feel, and there's absolutely no way some crazy gunman is going to decide for me what my future is going to be," Gannon said in the interview. "I will go back to Afghanistan, for sure."
Judges chose two entries as finalists: Kevin Sieff from the Washington Post for reporting on Ebola in Liberia, and a team from Reuters, led by special correspondent Stephen Grey, for reporting on the business dealings of Russian President Vladimir Putin. Judges said this year's crop of entries was especially strong.
Last year's winner was Matthieu Aikins, who also reported from Afghanistan. His story "The A-Team Killings," published in Rolling Stone, exposed alleged war crimes by U.S. Army Special Forces in Wardak Province.
Last year also marked a name change for the award. Freelance journalist James Foley (MSJ08) was posthumously honored with the medal and his name added to the official name of the award. Foley was captured while reporting in Syria in 2012 and killed by ISIS extremists in 2014. Gannon said winning an award named for Foley is an honor.
"I hadn't met James, but I'm certainly familiar with his work and it's an honor to be mentioned in the same sentence as him," she said. "Aside from the quality of his work, he had real courage. I think he defeated ISIS's attempt at terrorizing with his death. Instead, what I think James did was inspire with his work and his courage."
Foley's courage also reminds Gannon of her friend and colleague Niedringhaus.
"Her courage mirrored James's courage and that makes it particularly meaningful for me," she said.
Niedringhaus, who was part of a 2005 Pulitzer Prize-winning team from the AP, also has an award named in her honor. The International Women's Media Foundation created the Anja Niedringhaus Courage in Photojournalism Award in 2014.
It has been more than a year after the attack in Khost. Gannon has endured the loss of a close colleague, multiple surgeries and arduous physical rehabilitation, but she has said she will not stop her distinguished and esteemed work.
"We are honored to present this award to Kathy Gannon," Leff said. "Without her, we would not have a full picture of what's going on in Afghanistan."