Endurance key to marketing, according to DHR's Smooch Reynolds
Smooch Reynolds of DHR International, the fifth largest executive search firm in the world, came to talk with IMC graduate students about her career, networking and optimizing opportunities.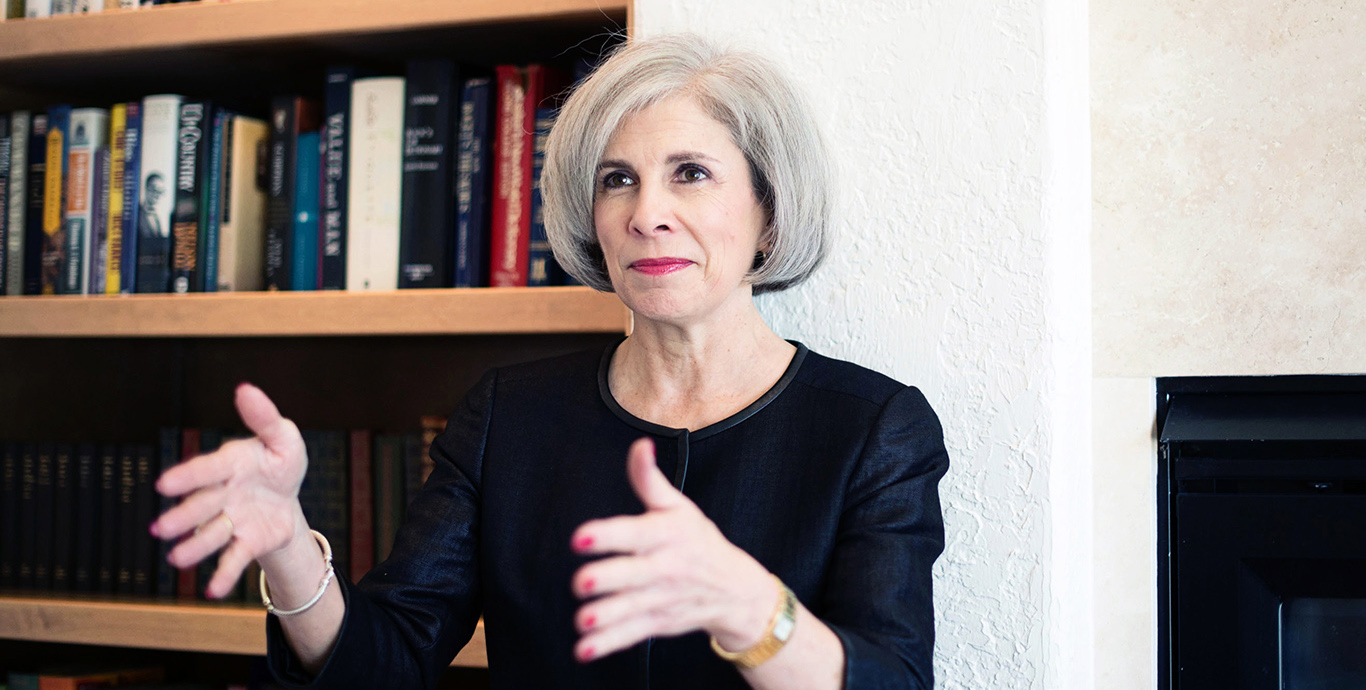 While the worlds of athletes and marketers might seem unrelated, Smooch Reynolds of DHR International said a number of parallels and striking similarities exist. Both require intensive training to enter the field, plus endurance, stamina and teamwork. Even cross-training—a word seemingly reserved for the athletic realm—has a place in marketing, Reynolds said.
"[In marketing], you can learn fields that are related to what you are doing but you can also learn different areas that might be of interest as well," explained Jane Flis (IMC15). "[Your career] is not always going to be a straight path—there are different areas that you can go but they are all going to be of value in learning skills in new areas that you might really fall in love with."
Reynolds attended Nancy Hobor's IMC Investor Relations class on May 19. This marketer-athlete parallel was just one of the topics that Reynolds touched upon in her discussion with graduate students interested in learning more about strategic communications and investor relations.
Known in her field as a top-tier C-Suite executive search consultant and headhunter, Reynolds has been in the executive search profession for over two decades. She has also been featured in a number of international publications, television broadcasts and news programs including CNBC and Fox News' "Your World with Neil Cavuto."
Currently, Reynolds works as the Global Investor Relations and Communications Practice Group Leader and Executive VP for DHR International, the fifth largest executive search firm in the world. Prior to this position, Reynolds founded her own executive search firm known as The Repovich Reynolds Group, and later held several high positions at The Irvine Company and Caldwell Partners International.
In order to move up to these prominent roles, Reynolds worked to create lasting connections with clients, coworkers and other executives. Susan Ward (IMC15) said Reynold's focus on nurturing relationships and understanding how to plan a career really resonated, and left the conversation with one key takeaway.
"Don't try to get to know someone in an opportunistic way--get to know them long before you would need their help," Ward said.
However, not all career paths can be perfectly planned, and for Reynolds, this worked to her advantage. The various opportunities she tackled and the relationships she nurtured while building her career might have all seemed a bit unrelated at the time, but looking back now, Reynolds is able to see how each piece fit together in the end.
"You should be open to whatever opportunities come your way and you should take advantage and enjoy them as opportunities to figure out what you want," student Nina Krek (IMC15) recapped.
Reynolds' presence as a guest lecturer in class was just one of the many hosted by IMC faculty this year, experiences that are prized by students.
"Speakers provide so much value to us because we can hear what's going on in the field—what sort of things are happening, what changes are happening, what things are coming up in the future that we should be prepared for and ready for," Flis said.
Guest lecturers also prove helpful on a more personal level for some students.
"Every time a speaker comes in from a certain industry, whether they're from the communications or advertising community, you get a better sense of what your options are post-graduation—you end up learning more about yourself," Krek said.
Join Medill IMC and learn from powerful speakers like Reynolds in classes across the program.