IMC Online comes to Evanston campus for Leadership Week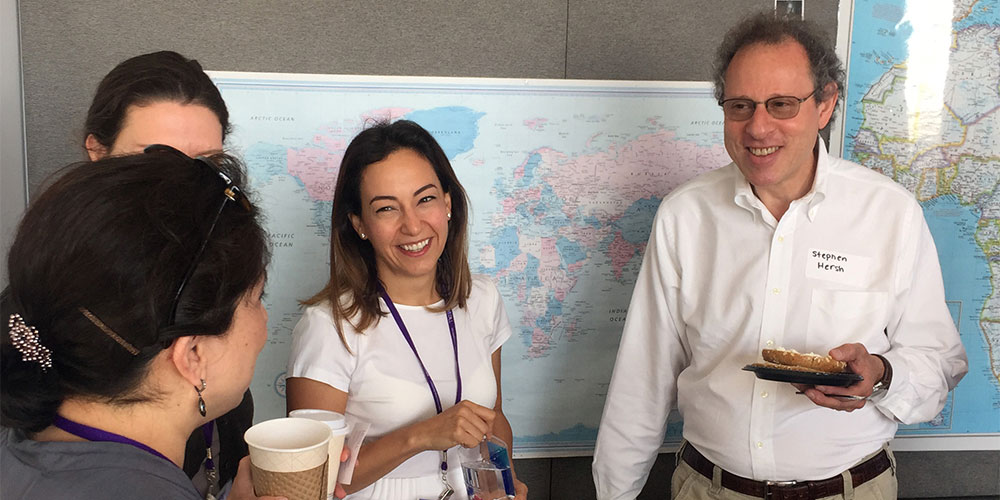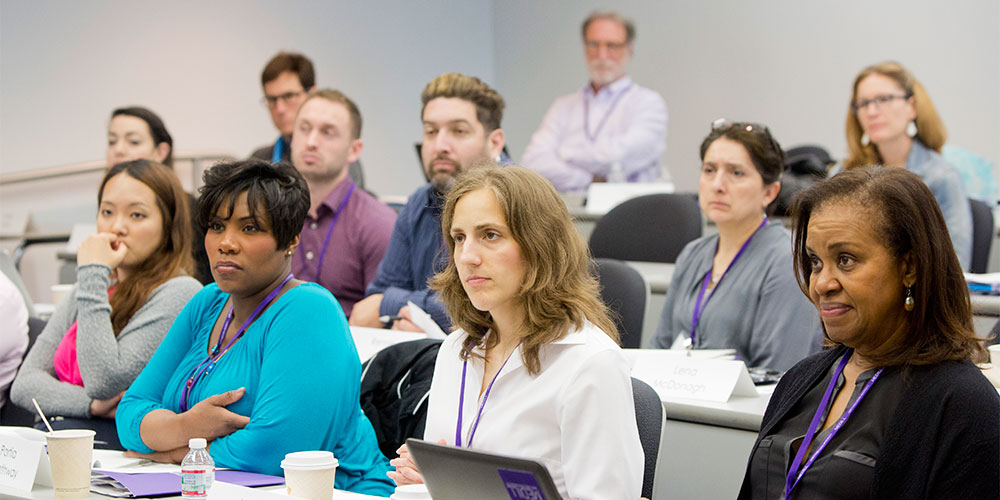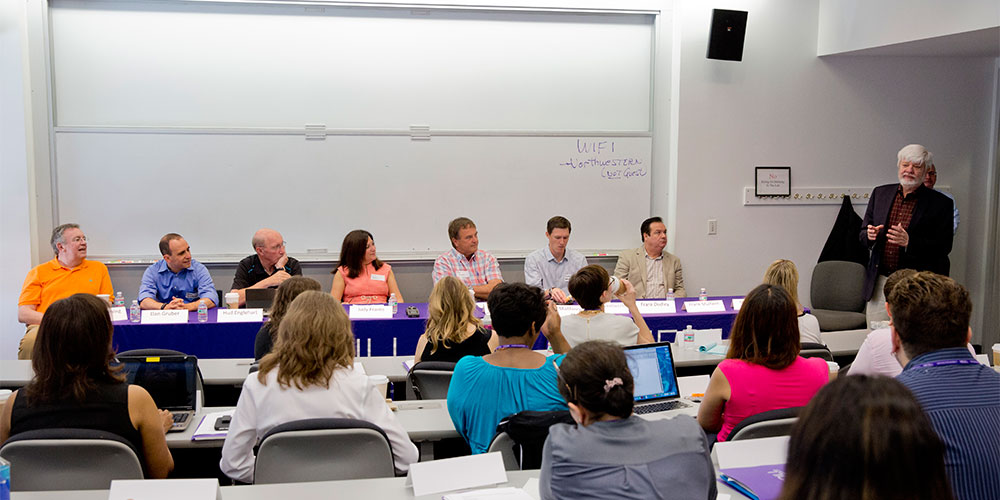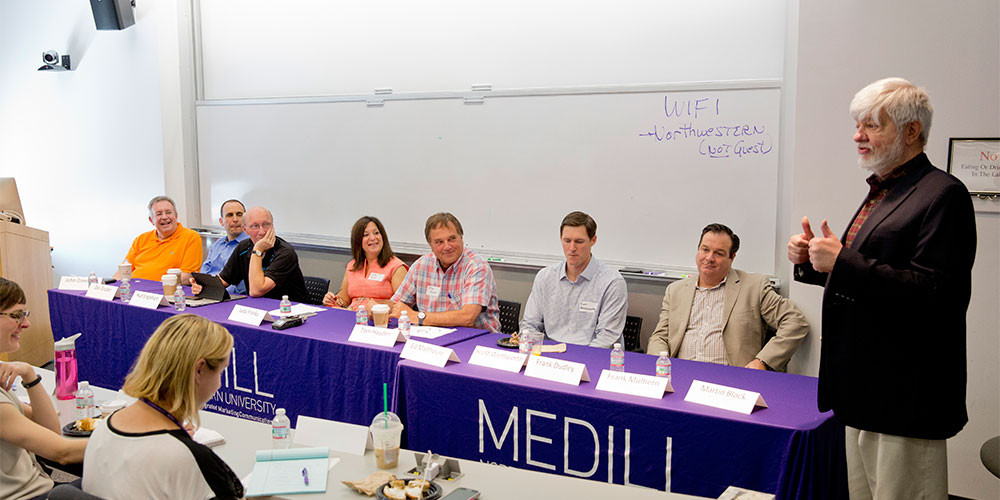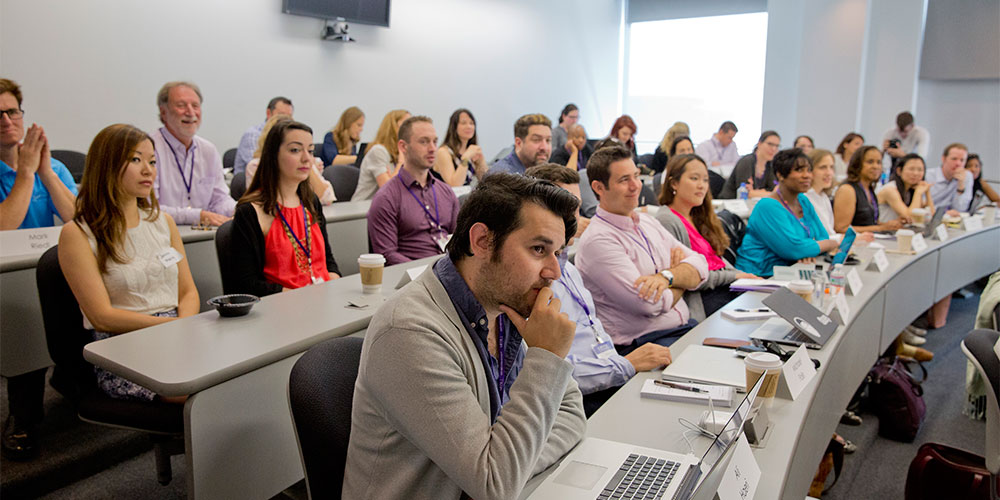 There's nothing like meeting your peers for the first time.
At least, that was the case for 30 IMC Online students, who traveled from across the world to Medill's Evanston campus June 9-13 for IMC Leadership Week. Enrolling in the online program meant students had taken the same classes, seen their peers' families via Google Hangouts for group projects and even exchanged calls and text messages, but they had never met in-person. For Michael Falls, his classmates have been key to his learning, and meeting them face-to-face was a unique and unexpected benefit offered through the course.
"I've learned from my peers how they approach problems, how they solve problems and how they integrate their experiences into the IMC curriculum," said Falls.
Leadership Week covers an entire quarter's worth of curriculum into five jam-packed days, featuring class lectures, guest speakers, live assignments, leadership workshops and networking opportunities. IMC Professor Candy Lee and Senior Director of Distance Learning Tom Collinger lead the course.
"IMC leadership teaches the storytelling, thoughtful decision making, communication, talent management and vision needed to build a successful growth strategy," Lee said.
A highlight of the week for students was listening to a panel of IMC faculty, including Frank Mulhern, Dan Gruber, Hud Englehart, John Greening, Martin Block, Ed Malthouse, Frank Dudley, Tom Hayden, Judy Franks and Scott Wentworth. Intent on imparting nuggets of wisdom, faculty touched on aspects of marketing like organizational evolution, the science of marketing, branding, the future of data, media and managing the unexpected. Faculty said:
 "As marketers, if you don't have credibility, you can't be persuasive," said Wentworth.
"The future of media can only occur when you have a marriage of mindset and technology," said Franks.
"The best corporate communicators are journalists…don't give up [those] skills in marketing," said Englehart.
While in town, online students also visited companies in downtown Chicago for networking meetings where C-suite professionals shared key marketing strategies and lessons from their own careers. When asked to give advice on leadership, Rishad Tobaccowala, chief strategist of Publicis Worldwide, told IMCers the key is knowing yourself.  His message was to know what makes you, you, and then to own that identity as a marketer and as an individual.
Jim Lecinski, vice president of U.S. Sales and Service for Google, gave similar advice, telling students they need to understand their sweet spot in marketing and "meet the universe half-way." Lecinski believes there are two ways to approach growing a career – the "type A" approach, making calculated moves about career growth, and the "tumbleweed approach," where by working hard and being nice, the right people will notice – and recommended IMCers blend both together for success.
Finally, Jimmy deCastro, president and general manager of WGN AM720, shared his belief in being fearless - perhaps the most daunting yet valuable of the insights shared for students in attendance.
IMC Online is a leading-edge program in marketing communications delivered digitally, taught by the same faculty and tailored for working professionals around the world. For more on the IMC Online master's program and curriculum, watch this video or visit our website.