Medill-piloted teaching technology spreads across campus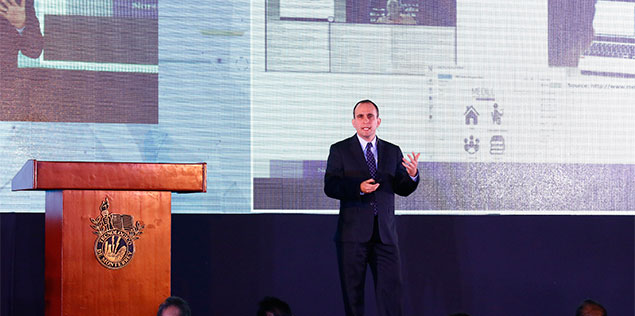 After a successful experience with the social learning platform Yellowdig in his own classes, IMC Assistant Professor Daniel Gruber is helping to bring the technology to classrooms across Northwestern's campus. 
Yellowdig describes itself as "Slack for the classroom" by allowing students to share content relevant to their class with each other. The interactive platform integrates with Canvas, the learning management system used at Northwestern. Through the program, professors create a virtual pinboard on which students and teachers can post and comment on articles and resources for the class. Yellowdig is very visual, displaying lots of pictures, and has a "robust" social platform, Gruber said. 
"It has a lot of the social media features that you are really accustomed to seeing in Facebook, Twitter and other things you may be using," he said. "It finds students in a technology and place that allows them to engage in a way that I think is meaningful." 
Since September, faculty across the university have been participating in a test pilot program led by Gruber, in collaboration with Northwestern University Information Technology and Yellowdig. These classes using the software come from Medill, the School of Education and Social Policy and the Kellogg School of Management, among others. 
Gruber had applied for a Digital/Online project grant through NU's Office of the Provost and Faculty Distance Learning Workgroup last year to test out the program, after he met the company CEO and found out about the technology. As someone who thinks a lot about bringing relevant current events into class discussion, he was excited about the possibilities for his teaching. 
Last spring, he piloted Yellowdig in three of his IMC classes, both graduate and undergraduate. According to data from course evaluations and follow-up surveys, it received lots of positive student feedback. From there, he met with NUIT to discuss the possibility of rolling out the technology across campus. Since then, he's given talks to different advisory committees and programs at Northwestern to explain the potential uses for the platform, including the University-wide Learning, Teaching, and Assessment Forum. 
Gruber's interest in Yellowdig stemmed from trying to find new ways to boost student engagement in his class. He encouraged his students to use Twitter to share articles using a unique hashtag for each of the classes taught. Gruber said this method had certain drawbacks; not all students had Twitter, nor did they necessarily want to use personal accounts for class purposes. The 140-character limit on Tweets was not conducive to meaningful conversation. With Yellowdig, however, students can have longer conversations, and only have to log into one platform for class. He said it took what he'd been doing with Twitter to a whole new level. 
"It allows us to have these discussions electronically but not feel like the whole world is watching," Gruber said. "That's an important part of this process, facilitating an environment that feels comfortable for everybody, and that every student has access to." 
Yellowdig also generates a lot of data about students' engagement with the platform, which have informed Gruber's teaching methods. A team at Northwestern Information Technology has produced visualizations of the times students are posting, different companies that are being talked about and the extent to which students are engaging with each other's posts. These learning analytics can help professors understand and improve the learning process, he said. Yellowdig also has optional features, like leaderboards for student participation that can be automatically integrated into the Canvas gradebook. 
Gruber said that this University-wide pilot launch is yet another example of Medill providing new instruction methods, like Medill's IMC Online program and Massive Online Open Courses (MOOCs). 
"Here at Medill, we have this incredible culture of teaching and innovation, when you think about all the programs that we have," Gruber said. "So I think [Yellowdig's] a really nice complement to what's happening." 
For more information on Dan Gruber and our IMC graduate programs, visit our website.