Medill students create documentaries on issues close to home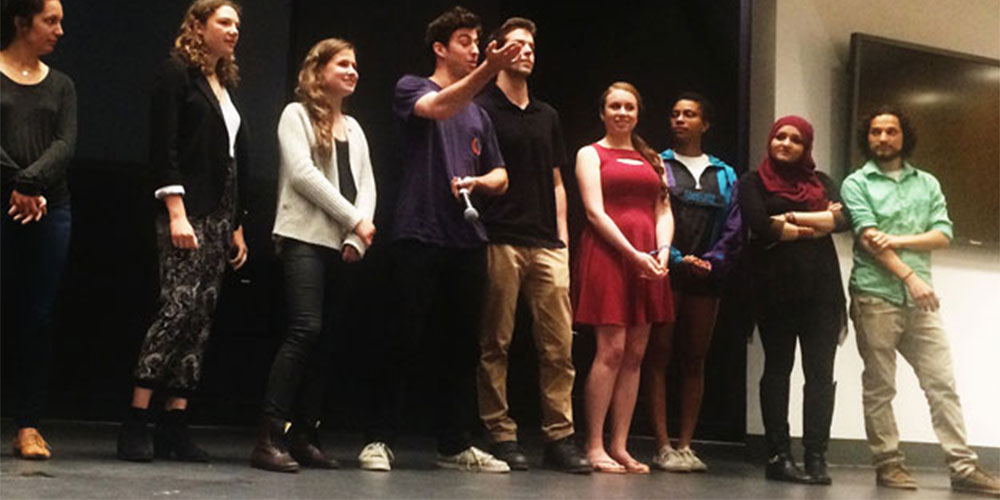 Assistant Professor Brent Huffman's undergraduate and graduate documentary filmmaking classes screened their final film projects to an audience of students, faculty and documentary subjects Monday and Tuesday evening of finals week in the McCormick Foundation Center forum.
"I am so proud of how all these films have turned out," Huffman said. "It's really a small miracle to make a documentary in ten weeks. Each group had a major crisis and hurdle they had to overcome."
Huffman's undergraduate students began the screening with the presentation of their five documentaries, each around 10 minutes in length and on subjects ranging from Northwestern University's ReFresH Dance Crew to Lego enthusiasts in Illinois.
The graduate class, which screened its three 15-20 minute documentaries Tuesday evening, covered topics including poetry slams and the struggle Illinois residents with criminal records face when searching for employment.  
The screening was particularly noteworthy for some students as it was the culmination of a 10-week class dedicated purely to planning, filming and editing a single assignment.
"It was really rewarding to get to spend one entire quarter working on just one project," said Annabel Edwards (BSJ17), whose documentary followed the lives of two drag queens living in Chicago's Far North Side. "A lot of times you have this one final project that's supposed to be the culmination of the class but you only have three weeks to work on it. With this class you're working on one film for the entire quarter so it's gratifying to slowly inch towards success and really get to concentrate all of your effort into one project that you can make really well."
For other students, the screening functioned as an opportunity to raise awareness on issues particularly important to them.
Carlin McCarthy (BSJ17), for instance, created a documentary about the inadequate housing options for LGBTQ seniors in the Chicago area—an issue she's been following for more than a year.
"I like to tell the stories that nobody's telling," McCarthy said. "I truly believe that if this issue is given more light in the media—if it's given more light in conversations—that something can really be done."
McCarthy's interest in the topic first piqued freshman year when she met Tim Schannep, her future documentary subject and an LGBTQ senior activist. Schannep is one of the co-founders of Triumph Hall, an LGBTQA community care senior center that was created out of a need for housing lesbian, gay, bisexual, transgender and queer-identified seniors.
This struck a chord with McCarthy, who was already heavily involved in Chicago housing issues as a volunteer for LIFT-Chicago, a non-profit organization that helps community members achieve economic stability and well-being.
By the end of her freshman year, McCarthy knew she wanted to create something that would raise awareness on the lack of housing for these seniors, and through Huffman's documentary class she was able to work with Schannep and his colleagues to create a film detailing the issue.
The final screening proved a powerful experience for McCarthy.
"I'm always really humbled by the fact that these people let me into their lives, they let me see what it's like to be them, their struggles," McCarthy said. "I wanted to do something that honored the community and the struggle that they've been through. This screening was so important for me personally to say that I've done something—that I've been able to try and help bring awareness to an issue."