Northwestern News Network wins national Emmy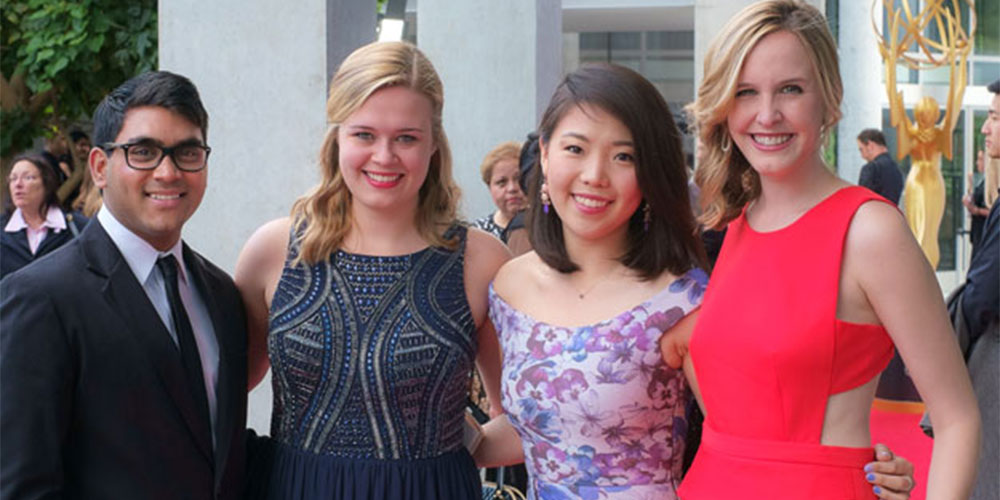 Medill's Northwestern News Network (NNN) took home the Bronze Emmy for its 2014 Election Newscast at the 36th Annual College Television Awards in Los Angeles on April 23.
The broadcast covered the gubernatorial and key congressional races in the Chicagoland area and was directed by Catherine Reid (BSJ15) and Sharon Yoo (BSJ15) and produced by Gabrielle Ake (BSJ16) and Orko Manna (BSJ16).
This particular show was set apart from previous NNN broadcasts in that it required reporters to get outside the Evanston area and into Chicago, "where the action was happening," according to Ake.
"We set up our cameras next to representatives from networks like Fox and ABC at all of these events, demonstrating a professionalism and sophistication in newsgathering that is much beyond our years," Reid said.
Of course, a lot of preparation and work in advance was key for the show's success.
"On election night, our veteran reporters dispersed around the state to different election watch parties for each campaign," Ake said. "So we needed press passes, transportation--it was a lot of pre-planning to make sure that the night of everything would go off without a hitch. We only really had one chance to make it all work."
This achievement marks NNN's third national Emmy in eight years, according to Assistant Professor Lawrence Stuelpnagel, who serves as NNN's adviser.
"[This Emmy] is just another sign that we strive for quality with everything that we do," Stuelpnagel said. "It's another sign of just how well we can produce a high quality program. It's a momentum builder."
NNN is a student-run news network created by undergraduate journalism students. NNN covers university and city issues and produce shows on sports and politics. A Spanish-language broadcast, Noticiero Northwestern, was added in 2013.