Zeno Group and Spark Communications share media strategies with Medill IMC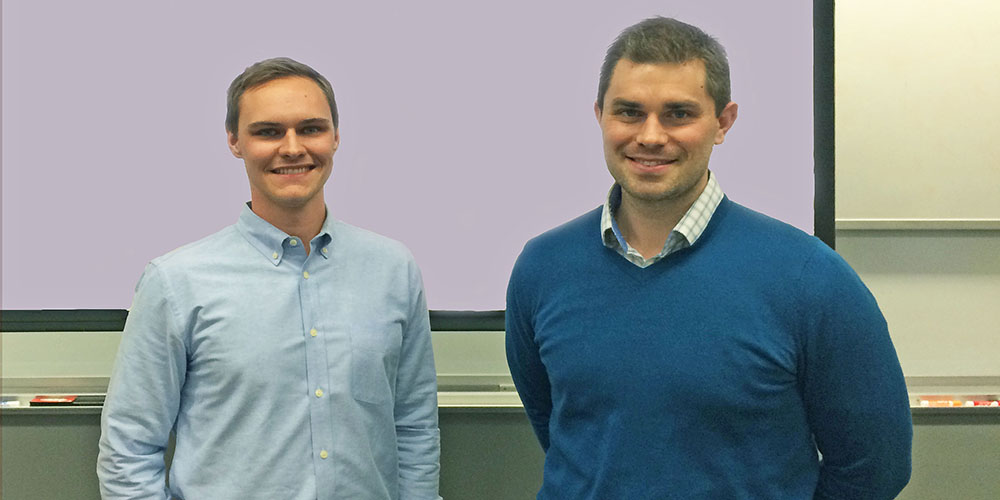 Jason Temming of Spark Communications and TJ Prince of Zeno Group joined Medill IMC's brand communications decisions course to discuss the current state of social media and offer professional insight into the class's marketing project on digital strategies.  
The two guest lecturers were hosted by adjunct instructor Sandy Kolkey, who also serves as the chief marketing officer at Turtle Wax, Inc., a company that both Temming and Prince have worked closely with.
Temming, media director for Spark Communications, noted that today's media landscape is becoming increasingly fragmented, and that the average American now spends some 60 hours a week consuming various digital content—which is more than ever before.
Overall, Temming said that this state of social connectivity has been largely beneficial for advertisers.  
"It ultimately gives us more opportunities to engage, which makes my job much more interesting," Temming said. "It also gives us a lot more control in how we serve our messages and build the right kind of media plan to advance our brands in a more effective and efficient way."
However, the proliferation of media choices is not without its challenges.
"Today's viewer is not only watching, but sharing, talking, clicking and texting," Temming said. "Now it's a matter of finding when and where to connect, and then seeing how to get a reaction with your content."
According to Temming, the solution lies in programmatic marketing, or the practice of sending specific messages to specific audiences. And recently, mobile devices have allowed advertisers the data to do just this.
"The proliferation of media consumption to the mobile screen has a huge impact on the way advertisers create content," Temming said. "As a result of more time spent on mobile devices, advertisers can serve targeted messages based on geolocation, and merge data sources to get a better picture of the customers—in the end, delivering specific messages to specific audiences."
TJ Prince, a community specialist and account executive for the modern-day communications agency Zeno Group, followed Temming and spoke on the digital media landscape.
"There's a huge future in digital marketing," Prince said. "Digital marketing budgets have been growing steadily over the past five years, and CEOs are spending more and more money investing in digital media."
One aspect that Prince is particularly excited about is paid-social—that is, a tactic that allows for targeted message amplification, allowing advertisers to reach a greater amount of users and build a stronger social fan community.
"Marketing is at its best when brands are connecting to consumers who have an interest in your product message," Prince said. "And marketers are winning when people who want to see the ads are actually getting served those ads."
Prince and his team recently employed these techniques while working on a fan acquisition strategy for Turtle Wax, Inc. By developing a strong social voice and visual style, they ended up bumping the company's social fan base from 15,000 likes on Facebook to a current following of over 300,000.
As for graduates hoping to stand out in the job application process, Prince stressed the importance of dedication and perseverance.
"We're always looking for people who are interested in working hard," Prince said. "When I started at Zeno I had no idea how to write a press release, I didn't study PR, but since then I've been able to learn a lot of things. So if you're willing to put in the hours and be ready to work you'll do alright."            
For more information or to apply to the IMC graduate program, visit our website.