IMC Online students reflect on their 'biggest surprise' of the program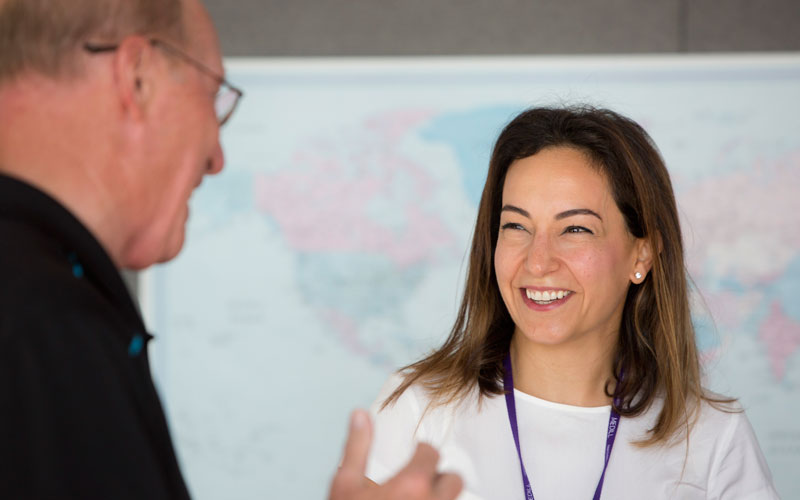 Students considering an online master's program often wonder how online learning compares to on-site learning, especially as it relates to interacting with fellow classmates and faculty. We asked Medill Integrated Marketing Communications (IMC) online students to share their biggest surprise of the program; while each had their own take, many students talked about the ease of connecting virtually and how the IMC Online program fosters collaboration.
Participate in In-Depth Discussions
"The program is incredibly interactive. People seem to check into the Canvas [learning management] platform as often as they would any other social media, and that keeps the discussions very rich and real-time. In fact, the discussions are able to get more in-depth than I would imagine some in-class discussion can be because of how much more time we have to participate."
- Azad Abassi, current IMC Online student and Manager of Community Management for Ignite Social Media in Detroit, Michigan
Collaborate on Projects
"I actually wasn't sure how I'd feel about taking all of my courses online. I really questioned how engaged I would be and I thought it would be really difficult to collaborate for group projects. So far though, working online has been really great. It's nice that we can fit our studies into our life by having assignments due on Sunday nights."
- Bridget Kurtenbach, current IMC Online student and Digital and Social Media Manager at the Leader-Telegram in Eau Claire, Wisconsin
Form Strong Connections with Professors and Classmates
"Many of my professors and classmates have become mentors, business advisors and friends. I feel like I can pick up the phone and dial many of them and ask for help with school or work. Many people think that a virtual classroom limits your ability to connect with others in a meaningful way. I have found that the multiple platforms can actually enhance relationships."
- Chris McClurg (IMC15), Global Marketing Manager at 3M in Minneapolis, Minnesota
Learn From and Build Rapport With Fellow Students
"I've been pleasantly surprised by the great variety of students and all the interesting experiences they bring. It's been surprisingly easy to learn from others and build rapport in a virtual environment."
- Janine Patrick, current IMC Online student and Senior Marketing Communications Manager at Microsoft in Bellevue, Washington
Network With Professionals
"I feel like this is a wonderful networking opportunity, and a great chance to connect with professionals across a wide variety of fields. The classes have been structured to allow us to interact and collaborate regularly, and it's become one of my favorite aspects of the program."
- Bridget Thoreson, current IMC Online student and Digital Content Specialist at Kalmbach Publishing Co. in Milwaukee, Wisconsin
Develop Friendships
"It is amazing that you can connect with so many smart people and actually develop friendships through your online connections."
- Maggie Wise (IMC15), Managing Editor at Hinge Marketing in Vienna, Virginia
The Medill IMC program began offering its master's degree online in 2013. Students from all over the world take the same courses, taught by the same faculty, as students in the full-time and part-time programs. Students typically take one or two courses per quarter and graduate in two to three years. To learn more about the IMC Online program and our other graduate programs, visit our website.