MSJ students in Argentina report in Spanish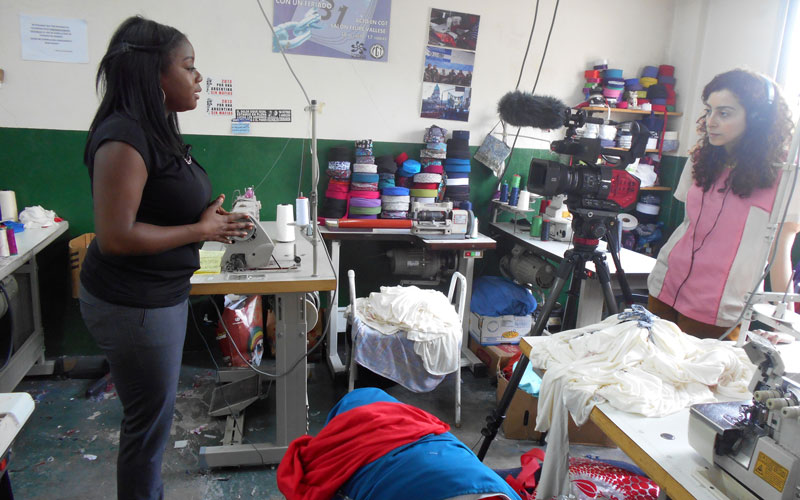 There have been so many amazing opportunities while attending Medill for graduate school, but Argentina was the highlight for me. I expected to learn about the culture and history of Argentina, meet other journalists and do my reporting in Spanish.  I was able to do all of that and more.
While in Buenos Aires, we both reported and learned about the city. During one of my favorite tours,  we learned about the art on the walls that decorate the city. It was nice to know why it's all there and what it means. All of us were a part of a street art tour that explained the history, and we learned that because soccer plays a major role in Argentina, it was featured on the walls. For example, I saw art that showed the violence in soccer in Argentina, and learned that handkerchiefs represented Las Abuelas (The Grandmothers), women who are trying to keep the memory of their missing grandchildren alive.
Every day in Argentina for Medill Explores brought the chance to speak with someone involved directly with the world of journalism. I met President Mauricio Macri's speechwriter, an editor of a newspaper and a television producer. I enjoyed being able to sit with them face to face - no questions were off-limits. I learned that there are significant differences between the media in United States and Argentina.
Clarín is the largest media company in Argentina that we toured. I had never heard of the government being at war with the media until I read about Clarín. Under the previous administration Clarín was being accused of trying to oust former President Cristina Kirschner.
Argentina also allowed me to practice reporting in Spanish. My partner and I collaborated on a story that focused on sweatshops and forced labor, and interviewed a human rights lawyer, an agency member who fights for the rights of former sweatshop workers and a former sweatshop worker. All of the interviews were conducted in Spanish and it was great practice for me. Since I'm a broadcast student, I also had the opportunity to film my stand up in Spanish.
I feel like this trip has made me a better journalist because I learned how to work under pressure in a foreign country and a different language. This entire experience is something that I'll remember forever and I'm so glad to have been a part of it!
Current graduate journalism students traveled on 8 different trips across the globe and U.S. during a one-week hiatus from class to hone their reporting and writing skills. Medill Explores trips included political coverage of the Iowa Caucuses in Iowa; sports coverage in Denver and San Francisco; global journalism in Argentina, Pakistan, South Africa and Puerto Rico; and business, arts, media innovation, social justice and health and science in Chicago.
For more information on the unique, real-world experiences we provide our graduate journalism students to solidify their skills, visit our website and follow us on Twitter, @MedillSchool and #lifeatMedill.