NABJ Midwest Student Spring Summit hosted at Medill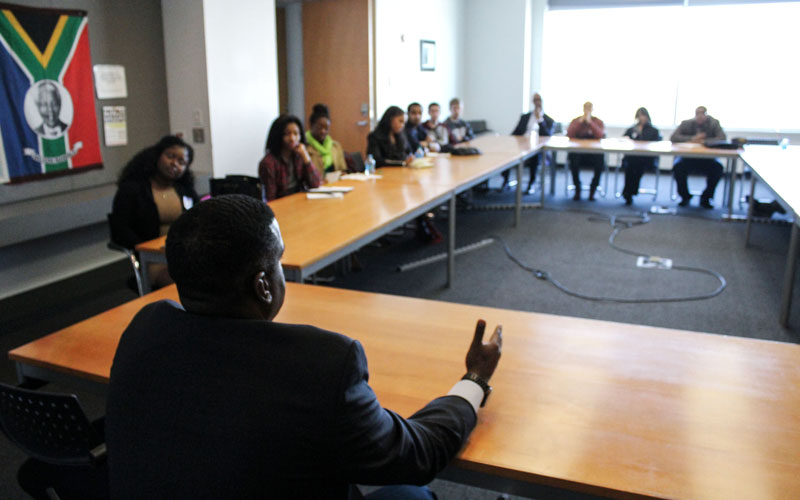 The pursuit of excellence in journalism is the goal of Northwestern's chapter of the National Association of Black Journalists. Enterprising chapter president Sierra Boone (BSJ17) organized the project along with the NABJ-NU summit planning committee. They put together the schedule and arranged for speakers, panelists, and catering for the weekend-long event.
The weekend's topic was "controlling our narrative," a theme that drives every program put on by NABJ-NU. The summit comprised various workshops on skill-building topics including how to pitch story ideas, sports reporting, marketing and how to land a dream job.
Medill alumni, faculty and guests sat on panels and conducted the workshops throughout the weekend.
The summit culminated with an inspiring keynote address by Ebony Editor-in-chief Kierna Mayo. Mayo described her background as part of the first group of hip-hop feminists.
In a world where racism and sexism tried to keep her down, she said she used these structures to motivate her to do better, an experience to which the students gathered could relate. Her drive to produce relevant and engaging journalism to Black audiences brought her to Ebony. There, she sees an opportunity to use the legacy of Ebony to bring it into the 21st century.
Mayo is well known for her intriguing and challenging cover photos. Recently, the Body Brigade, which celebrated plus size women, like the gorgeous actress Danielle Brooks of Netflix's "Orange is the New Black."
The Family Issue(s) has been her most provocative cover. This year, it depicted a promotional photo of the Cosby Show, with a pane of glass shattered across Cliff's face, its branches distorting the images of each character. Mayo says the cover stirred up a lot of controversy, but it also made it clear that Ebony was here to tackle the big conversations.
"The business of media is just as important as knowing what a good story is," she said.
Students from across the Midwest were in attendance, from schools such as: Northern Illinois University, Southern Illinois University, University of Illinois and Michigan State University.
Keep up with the NABJ-NU chapter on their Facebook page and learn more about our undergraduate journalism program at Medill here.