Medill Documentary Students Awarded for Their Investigation in "Colombia's Ride of Death"
Medill documentary students awarded for their investigation in Colombia's Ride of Death
November 8, 2016 | By
Carson Brown (BSJ17)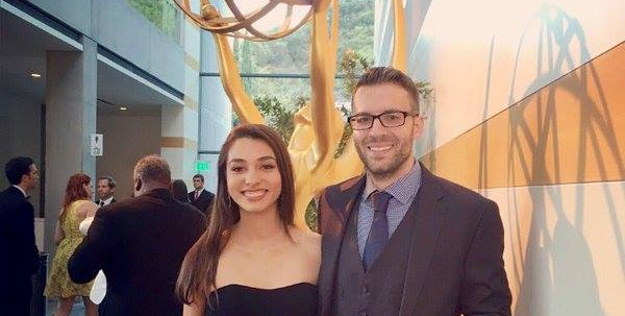 To win a National College Emmy is to be recognized for outstanding work. To win one in documentary is to join a small cohort in a world where nonfiction reigns. This prestigious recognition was awarded to Isabella Szabolcs and Daniel Brown, recent graduates of Medill's graduate journalism program. They were awarded a third-place National College Emmy for their documentary, "Colombia's Ride of Death," about the health care crisis happening in the country.
It's obvious when you talk to Isabella and Daniel why they make an excellent documentary making team. Isabella is detail oriented and concise. Dan surveys the big picture to tell a story. The two traveled to Colombia for their documentary capstone project. Taught by Associate Professor Brent Huffman, the class aims to allow students to pursue stories they are passionate about to create professional-level documentaries. To win the award, Isabella and Daniel submitted their application and were chosen out of hundreds of entries, often coming from schools where students have a full year to complete their projects. Daniel and Isabella finished their documentary in less than 10 weeks.
According to their documentary, because of health care corruption in Colombia, 1.5 million preventable deaths have occurred while patients wait months just to get an appointment with a doctor. Closely tied to the highest government officials, insurance companies fail to pay hospitals for the services they provide in order to invest profits into their own businesses, rendering their universal health care system ineffective.
As Isabella and Daniel reported, overcrowded hospitals can't take on patients in a timely manner, leaving patients lying on stretchers in the hallways. Outside the insurance company headquarters, people wait months, getting in line as early as 3:00 a.m. to get an appointment for their loved ones.
Isabella says they came up with the idea after she read an offhand comment about health care corruption in an article about Colombia. "It was one of three ideas Dan and I had, but when we started looking at it more in-depth online, we realized how massive and important of an issue it was," she said. "No one has covered this internationally or even in Colombia via video, so it was something that definitely needed to be reported on."
That motivation is exactly why Huffman says he teaches the class. "The main goal is to get the students to work at a professional level and to work on subject matter that they feel passionate about," he said. "The ultimate goal is that these films are not just class projects, but that they get out into the world, premiere at film festivals or show on online outlets and win awards."
Beyond recognition, Huffman says the potential for meaningful impact is what makes his documentary class at Medill so worthwhile. "I love to get the students to fall in love with documentary, get them to fall in love with the subject matter and to watch something we're doing in class become this vehicle to help a subject raise awareness or change a situation," he said.
Isabella and Dan credit their success to Huffman's supportive teaching style and well-structured class. "I felt that it wasn't until Brent's class that we figured out how to use a video camera to our best abilities," Isabella said. "Brent and his class really prepared us for the technical aspects, so we felt pretty comfortable once we were on the ground."
"For me, the biggest thing I took away was how to structure a longer video piece," Daniel said. "He really trained us to look for scenes, hold narrative structure from beginning to climax to end and to have all of the different scenes and characters connect to one another." Daniel works for the Chicago Sun-Times as a print journalist, and says he thinks of himself as a multimedia journalist.
Medium is not always his most important factor, but he values his documentary class for sharpening his skills in longer form storytelling through video. "[Brent] gave us a lot of specific tools and sent us on our way, letting us do what we wanted, but helping us edit along the way to put it together."
Huffman says the duo did an incredible job of communicating a harrowing story. "I think what really impressed the judges is that they were working on this very professional level in this investigative frontline journalism style, but also that they had this amazing access," he said. "You could really see the human rights abuses and corruption first hand."
He says a major benefit for students like Isabella and Daniel at Medill is that, like him, many professors are still active in their professional careers. They still create and pitch in the same way they train students to, meaning they're engaged with top publications and outlets across the country. "The only way you can know what are the standards and what kind of work the New York Times is interested in is if you've worked with the New York Times recently." 
Learn more about Medill's video reporting and broadcast storytelling method.