Northwestern University Library Honors Archives of Alumna Karen DeCrow
Karen DeCrow, a graduate of Medill in 1959, was a trailblazer in the field of feminism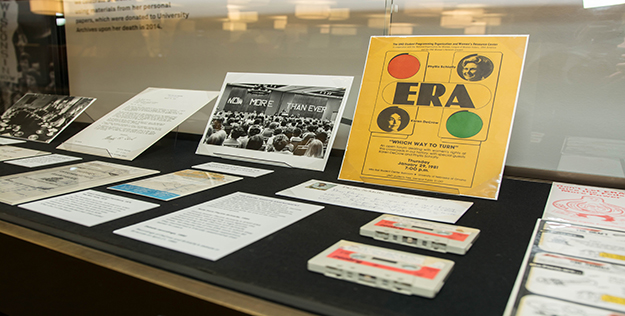 "What does a feminist look like?" is scrawled in huge capital letters on a whiteboard, surrounded by a rainbow of diverse and creative responses provided by library visitors. Eyes dart quickly to the display on the wall as students rush to their destination, and often, someone takes the time to stop and read each entry.
This is the most visual aspect of a current Northwestern University Library exhibit on Karen DeCrow titled "You're No One 'Til Somebody Hates You." The title pulls from a cross stitch that DeCrow's sister made for her that now sits in a glass case in the first floor of the library, as part of a large collection endowed to Northwestern after her death.
Karen DeCrow, a graduate of Medill in 1959, was a trailblazer in the field of feminism.   DeCrow graduated from Syracuse Law School in 1972 and was the only woman in her class, she went on to lead the National Organization for Women, (NOW), where she fought for women's rights in sports and the workplace and equality between the genders.
As NOW celebrates the final months of its 50th anniversary, and the political climate is as tense as ever, the exhibit on the first floor of the library is increasingly relevant. Exhibit curator Jill Waycie said that in all aspects of DeCrow's life, Northwestern was incredibly important.
"Writing was her first love," Waycie said. "She credited [Medill] with skills she used in public speaking and mentioned it in countless interviews."
Waycie, who has worked with the collection since January of 2016 and is still processing all the materials donated by DeCrow in her will, finds the diaries to be the most interesting part of the collection.
"You can really get a look into her mind. We have one open to the page from her mayoral campaign [as first female mayor of Syracuse, New York], where it says 'This will make a great book.' She was so self-aware … knowing that she's a trailblazer."
As for the whiteboard responses on the front wall, Waycie laughs, she's getting educated by students as well. The introduction of intersectionality, she says, is something almost nonexistent in DeCrow's time, but important in this day and age.
"I hope that the relevance of the exhibit is seen," she says.