IMC Online Students Visit Campus for IMC Leadership Class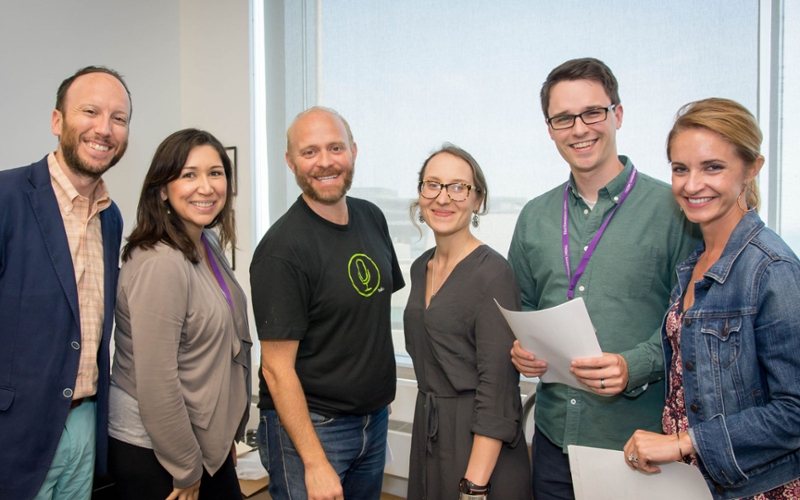 More than 30 IMC Online students traveled from across the world to meet on Medill's Evanston campus during this year's IMC Leadership Week from June 7-11. Leadership Week covers an entire quarter's worth of curriculum in five jam-packed days, featuring class lectures, guest speakers, group assignments, leadership workshops and networking opportunities. IMC Professor Candy Lee and Senior Director of Distance Learning Tom Collinger led the course.
Students said they enjoyed learning about what it takes to be a leader, saying the open discussions during the class helped them see their classmates' perspectives, feedback and experiences from working in different markets and businesses.
"It's satisfying to be with students who feel this experience was so worthwhile," Lee said.
Students also liked the opportunity to practice communication skills, from public speaking to storytelling, with their professors and classmates.
"It was amazing to work with individuals that were so diverse in thought and background," said Brian Blake (IMC16), a participant in this year's leadership week.
The rigorous one-week program kept students engaged in meetings, lectures and panels held by different Medill professors. These sessions touched on topics from group management to different leadership styles, helping students build their skills as leaders.
Students also had the opportunity to engage with guest speakers such as University President Morton Schapiro, Narrative Science CEO Stuart Frankel, Google's Vice President of US Sales and Services Jim Lecinski and Leo Burnett's Chief Talent Officer Renetta McCann.
"President Schapiro was not only intelligent and inspiring. He, like Northwestern, was authentic and real," said Alex Plant, one of this year's IMC Leadership Week participants. "He reaffirmed my belief that it's important to be true to yourself and, if you do, you'll go far and will follow your dreams."
During their stay, students had a chance to explore Chicago and Medill's new Chicago location at 303 E. Wacker Drive. They also visited the Google and Leo Burnett offices downtown, where students were exposed to different types of work environments and cultures.
Blake, who recently graduated from the IMC Online program, said the biggest benefit of these visits was getting a chance to see how different leadership affects the cultures in each office.
"The Leo Burnett visit was one which was really focused on helping leaders develop their own style and bring out their unique strengths," he said. "Google, focused more on product and how leaders helped to bring that product to life. It also focused heavily on intent and the role it can play in helping marketers build intent."
Students also appreciated the opportunity to connect with their fellow classmates and professors in person. Meredith Hein, a participant in this year's Leadership Week, said it was great to finally put faces with the names of students and professors she had only worked with online.
"I had been in "class" with many of the members of the leadership group for nearly two years, but being able to interact in person added a new dimension to our learning," she said.
During the final day of the program, student groups presented their Innovation Projects. Plant, who was on this year's winning team, said his group presented a business plan and investor pitch deck for a new type of service that helps get seniors back in the workplace.
"My team came from diverse backgrounds, which really helped us to present a compelling and thorough pitch...oh and we won, which was awesome," he said.