Medill professor and former dean Loren Ghiglione to retire
A public celebration will take place on Thursday, May 25 at 4 p.m. in the McCormick Foundation Center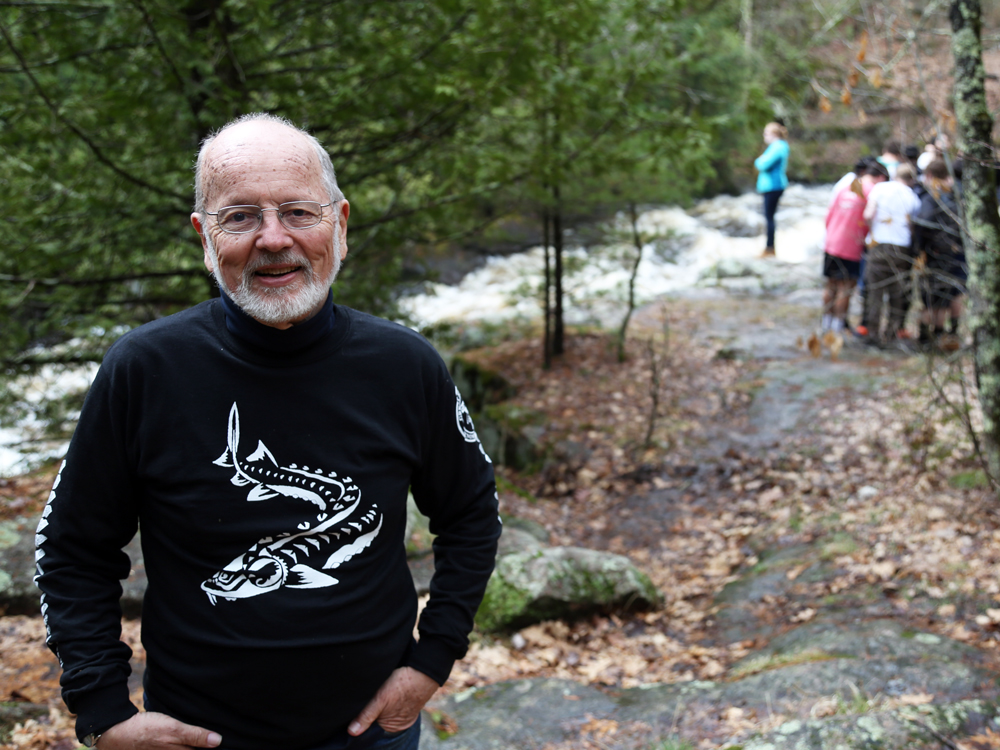 After more than 45 years in journalism and journalism education, Medill professor and former dean Loren Ghiglione is retiring in June.
"Loren is an ideal teacher-scholar, and he cares deeply about his students," said Medill Dean Brad Hamm. "His push for a more global and inclusive community and perspective had a profound impact on Medill and Northwestern that will continue long into the future." 
Before joining Medill, Ghiglione owned and edited the Southbridge (Mass.) Evening News and ran its parent company, Worcester County Newspapers. In this role, which he held from 1969-1995, he won two dozen regional and national awards for reporting and editorial writing. He also served as a four-time Pulitzer Prize juror, guest curator of a 1990 Library of Congress exhibit on the American journalist and president of the American Society of Newspaper Editors.
Throughout his career, Ghiglione has pushed for inclusivity in many areas. As president of the American Society of Newspaper Editors from 1989-1990, he established journalism history and disabilities committees, advocated for greater diversity throughout the news industry, and initiated a groundbreaking study of gays and lesbians in America's newsrooms. The study revealed biases in journalism against sexual orientation and identities and prompted Washington Post Editor Leroy Aarons to come out as gay. Aarons would later go on to found the National Lesbian and Gay Journalists Association. 
"The consistent thread you see in him is this kind of radical agitation to include every community in journalism training, in journalism newsrooms, and in devising the ways stories are told through journalism," said Medill Associate Professor Douglas Foster. "Through his entire career he's been a powerful advocate for equality." 
From 1995-1996, Ghiglione was a consultant to the Freedom Forum on its creation of The Newseum. Thereafter, he became the James M. Cox Jr. Professor of Journalism and the director of the journalism program at Emory University, and then the director of the University of Southern California's journalism school.
Ghiglione joined Medill as dean in 2001. In this role, he prompted the shift to a more global perspective. As part of the Global Journalism Residency (JR) program, undergraduate students choose from media sites in South Africa, Argentina and Qatar to work with for a quarter. Residencies sparked the development of a global curriculum that allows students to take classes that include reporting trips across the world—to Panama, Dubai, London, Paris, Israel, China and more. This global focus started with the South African Residency, which was Ghiglione's vision.
Medill Professor Ava Thompson Greenwell worked closely with Ghiglione and continues to be the principal faculty member associated with the South Africa program.
"We will miss Loren, but he has left a legacy at Medill and beyond that will live on," she said. "We are forever indebted to him for the incredible, life-changing opportunities he has given us through JR-South Africa. We wish him well and know that retirement probably won't slow him down much."
In 2007, Ghiglione became the inaugural Richard A. Schwarzlose Professor of Media Ethics at Medill. During this time, he served on Northwestern's Native American Outreach and Inclusion Task Force, introduced an oral history course titled "Native Americans Tell Their Stories," and was chair of the university steering committee for the 2015-16 One Book One Northwestern program, which selected Thomas King's "The Inconvenient Indian: A Curious Account of Native People in North America" as that year's all-campus read.
"He's just a deeply moral and principled guy. He's tough and willing to push and push," Foster said. "Lots of people get overwhelmed by the amount of work they do in a school like Medill. He kept doing this work and then engaged campus-wide in that effort." 
Ghiglione will be remembered at Medill for his eagerness to learn about the world and for instilling that passion in his students.
"Loren's great legacy will be that he set Medill on a global path, and that really set Medill in a whole new direction. I think we have him to thank for showing how Medill could be a more global institution," said Associate Dean and Professor Charles Whitaker.


Public Celebration
Medill is hosting a tribute celebration for Ghiglione on Thursday, May 25 in the McCormick Foundation Center forum, 1870 Campus Drive in Evanston. The program is at 4 p.m., followed by a reception at 5 p.m. The event is public and all are welcome to attend.