Two Reuters journalists awarded the 2017 James Foley Medill Medal for Courage
Award winners Wa Lone and Kyaw Soe Oo were arrested while reconstructing the killings of Rohingya men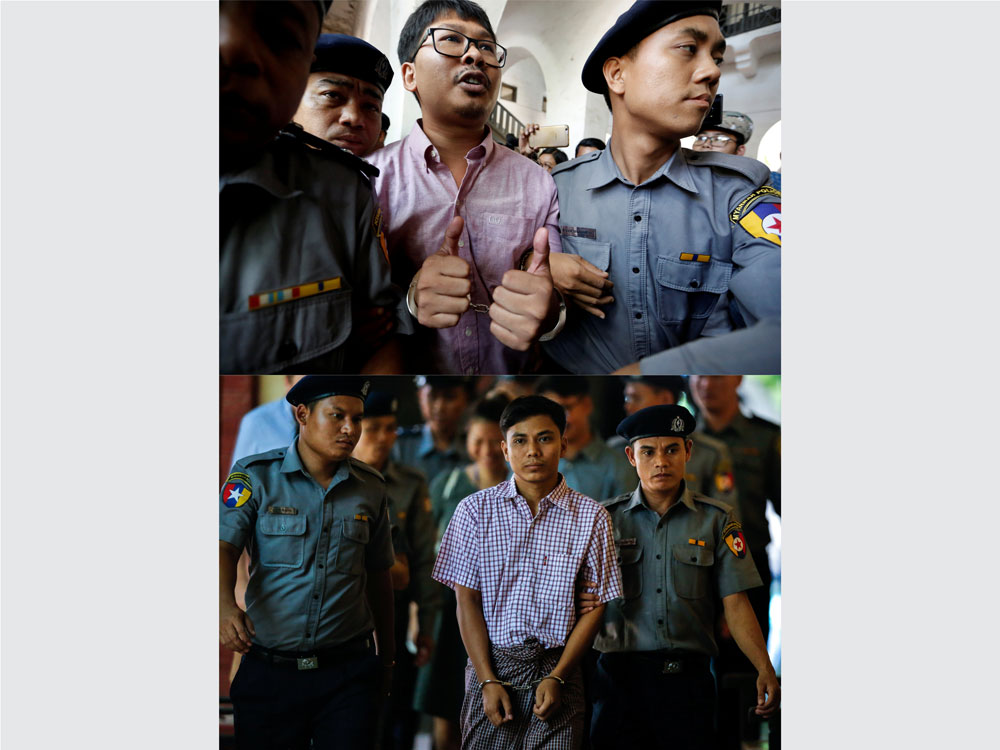 Reuters journalists Wa Lone and Kyaw Soe Oo are the recipients of the 2017 James Foley Medill Medal for Courage in Journalism. The Burmese journalists have been held by Myanmar officials since December 12, 2017, pending a hearing on whether to bring charges against them under the Official Secrets Act.  
[Update: On September 3, 2018, a Myanmar judge found Wa Lone and Kyaw Soe Oo guilty of breaching a law on state secrets and jailed them for seven years.]
[Update: On May 7, 2019, Wa Lone and Kyaw Soe Oo were released after more than 500 days in jail.]
Before their arrest, Wa Lone and Kyaw Soe Oo were painstakingly reconstructing the killings of 10 Rohingya men last September, following their path from a beach in the Rakhine state, where government troops and Buddhist villagers plucked them from among a crowd of villagers seeking refuge, to their mass grave nearby. The two reporters told each of the men's stories, shining a light on their lives as well as on their deaths. "The coverage was riveting and horrifying," said award co-judge and Medill Professor Donna Leff (BSJ70, MSJ71). "The reporting was meticulous and the story-telling was heroic."
The reporters led a Reuters team in Myanmar and Bangladesh who have chronicled the violence against this Muslim minority, the widespread burning and looting of Rohingya villages and the rape and killings of Rohingya children, women and men. The violence has resulted in 600,000 people fleeing their homes in what has been described by the United Nations as "a textbook example of ethnic cleansing."
"What was also remarkable about this entry was that it not only demonstrates individual courage but also exemplifies institutional courage," said Medill co-judge and Chicago Tribune investigative reporter David Jackson. "If they had pulled their reporters, the world would never know this story. Instead, Reuters chose to double down on its coverage."
Working in the Myanmar conflict zones and the refugee camps in Bangladesh, the team reported the army's campaign against the Rohingya in northern Rakhine and provided an in-depth look at the early strategy and recruitment tactics of an insurgent Rohingya group whose attacks resulted in a violent military counter-offensive.
The reporting included a series of powerful interactive multimedia presentations that showed the full extent of the refugee problem and the conflict, including the widespread burning of Rohingya villages.
This year's runner up also won high praise from the judges. "Death in Al Ghayil: Women and Children in Yemeni Village Recall Horror of Trump's 'Highly Successful' SEAL Raid" by Iona Craig was published in The Intercept in March 2017. In the article, Craig recounts her more than 1,000-mile undercover journey by road into al Qaeda and Islamic State active areas to reach the remote village on the frontlines of Yemen's civil war where the raid took place.
"This year's winners and runner-up mark only the second time we have awarded the prize to non-U.S. journalists, and it's important to recognize the perils these international journalists face," said co-judge and Medill Board of Advisers member Dick Stolley (BSJ52, MSJ53). "Craig's investigation also set a new standard for the James Foley Medill Medal for Courage by recognizing an online-only submission as the runner up, expanding our vision for this award."
The testimonies Craig collected from eye-witnesses and survivors did not match the version of events put out by American officials and U.S. Central Command. The day the story was published by The Intercept, U.S. Central Command head Gen. Joseph Votel told the Senate Armed Services Committee that no bad decisions had been made and no further investigations into the January mission were necessary.
Commenting on the quality of the submissions, Leff said, "We stand in deep admiration for the journalism in all the medal entries. At a time when our profession is under financial and political siege, we are gratified by the fearless reporters in all corners of the world telling painful stories we need to hear."
Public Event on Oct. 26
Reuters Myanmar Bureau Chief Antoni Slodkowski will accept the award on behalf of Wa Lone and Kyaw Soe Oo on Oct. 26. The event is at 12 p.m. on the Evanston campus, MFC, 1870 Campus Drive. The event will also be available via live stream.

About the James Foley Medill Medal for Courage in Journalism
The 2017 medal is given for work published during the 2017 calendar year to an individual or team of journalists, working for a U.S.-based media outlet, who best displayed moral, physical, ethical, financial or political courage in the pursuit of a story or series of stories.
The selection committee included Medill Board of Advisers member Dick Stolley, former senior editorial adviser for Time Inc.; Chicago Tribune reporter and 2011 James Foley Medill Medal for Courage in Journalism recipient David Jackson; and Medill Professor Donna Leff, who has been a member of the faculty and an associate of Northwestern's Institute for Policy Research since 1980.
The 2016 award was given to then-Associated Press reporter Hannah Dreier for her coverage of the recurring turmoil in Venezuela.