Co-anchor of NBC's 'TODAY Show,' Host of ESPN's 'The Jump' named 2018 Medill convocation speakers
Medill alumnae Sheinelle Jones and Rachel Nichols will address students at this year's ceremonies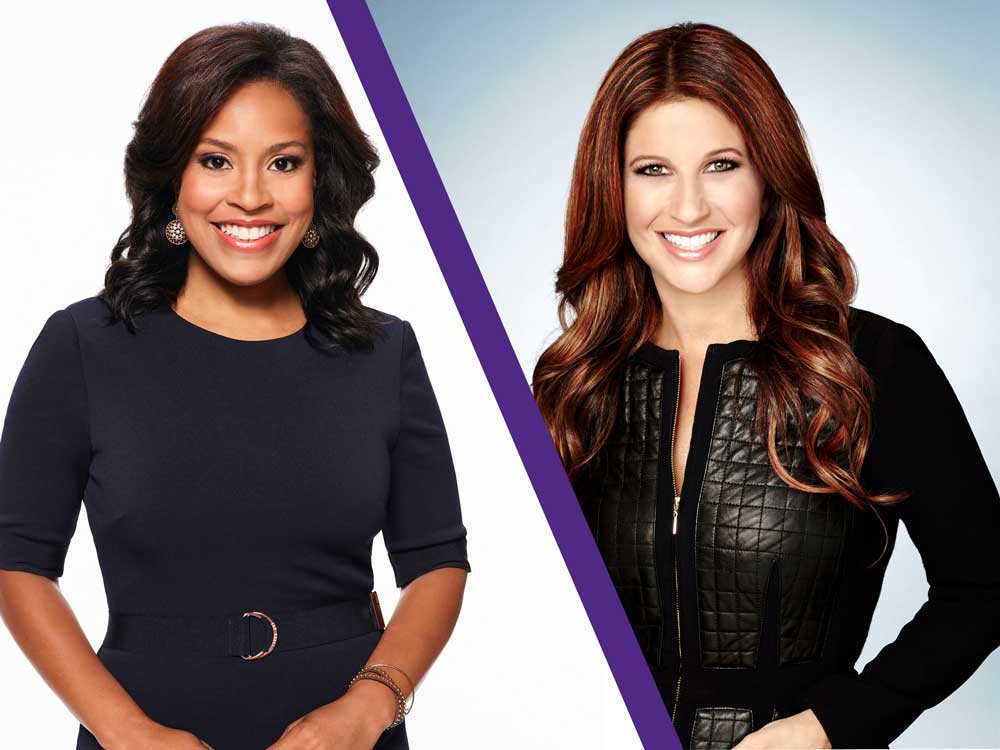 Two accomplished Medill alumnae will return to campus to address graduates and their families at Medill's convocation ceremonies on Saturday, June 23.
Sheinelle Jones (BSJ00), co-anchor of NBC's "Weekend TODAY" will speak to undergraduate journalism students at the 10 a.m. ceremony.
Rachel Nichols (BSJ95), host of ESPN's "The Jump," will speak to graduate journalism and integrated marketing communications students at the 2 p.m. ceremony.
Both ceremonies will be at Cahn Auditorium and will be livestreamed and recorded for later viewing. Due to capacity in the venue, tickets are required and will be distributed to Medill students who are graduating prior to the event.
"We are thrilled to welcome Sheinelle and Rachel back to campus to speak to our graduates this year," said Medill Dean Bradley J. Hamm. "Both have actively supported our students with career advice, visits to campus and opening their workplaces to visiting Medill students. Their exemplary careers will inspire our newest alumni as they begin their own careers."
Jones is a co-anchor of NBC News' "Weekend TODAY" and a mid-week correspondent for "TODAY." She also is a contributing anchor on weekend editions of "MSNBC Live," and hosts "Dateline NBC" on OWN.
"I've returned to the campus many times over the years to talk with students, but coming back to speak to new Medill graduates is one of the greatest honors of my career," Jones said. "I remember sitting where they will be soon .... soaking up every piece of advice I could get, before starting my first job literally two days later."
Since joining "TODAY" in October 2014, Jones has covered breaking news events and a variety of human interest stories, including the 50th anniversary of "Bloody Sunday" in Selma, Alabama; Ryan Ferguson, a young man who spent 10 years in prison for a crime he did not commit; and countless interviews with notable figures and celebrities. She is known for her trademark enthusiasm on the red carpet at the Academy Awards, Golden Globes and Grammy Awards.
Prior to joining "TODAY," Jones served as co-host of FOX's Emmy Award-winning morning show "Good Day Philadelphia," where she reported local, national and international headlines. She also interviewed a number of notable politicians and celebrities, from Senator Barack Obama and Senator Hillary Clinton to Halle Berry, Kevin Hart and Martin Sheen. She began at "Good Day" in July 2005 as a general assignment reporter for the broadcast.
Jones received her bachelor's degree from Medill in 2000.
Nichols is host of "The Jump," a daily hourlong program focused on the NBA. The fast-paced program originates from ESPN's Los Angeles studios and includes regular appearances by current and former NBA players, as well as ESPN analysts, reporters and insiders. "Sports Illustrated" has called it the "best basketball show on television."
Nichols is an extensive contributor to "SportsCenter" with commentary, interviews and features. She also occasionally hosts "Outside the Lines," and contributes to ESPN's prime-time newsmagazine "E:60."
"To call my time at Northwestern 'formative' would be a colossal understatement – it shaped so much of the journalist, and the person, I've turned out to be. I'm so thrilled to have the chance to come back and be even a small part of that same experience for this year's graduating class," Nichols said. "Plus, this gig comes with a super-stylish cap, so what's not to like?"
From 2013-2016, Nichols was an anchor/reporter at CNN and Turner Sports, working sidelines on the networks' NBA and NCAA Tournament broadcasts, as a CNN studio analyst and as the host of "Unguarded with Rachel Nichols."
She is well-regarded for her pointed questioning of athletes such as boxer Floyd Mayweather and NFL Commissioner Roger Goodell on the issue of domestic violence.
Nichols had previously worked for ESPN from 2004-2013 while based in New York City. During that time, her role included major event coverage, breaking news and high-profile interviews. Nichols was most often seen on "SportsCenter," "NFL Countdown" and "Outside the Lines."
Nichols began her career as a reporter for the Washington Post and the Fort Lauderdale Sun-Sentinel.
Nichols received her bachelor's degree from Medill in 1995.