Medill IMC students compete to find new ways to engage consumers in Shopper Marketing Challenge
Graduate students present strategies for brands to increase in-store customer engagement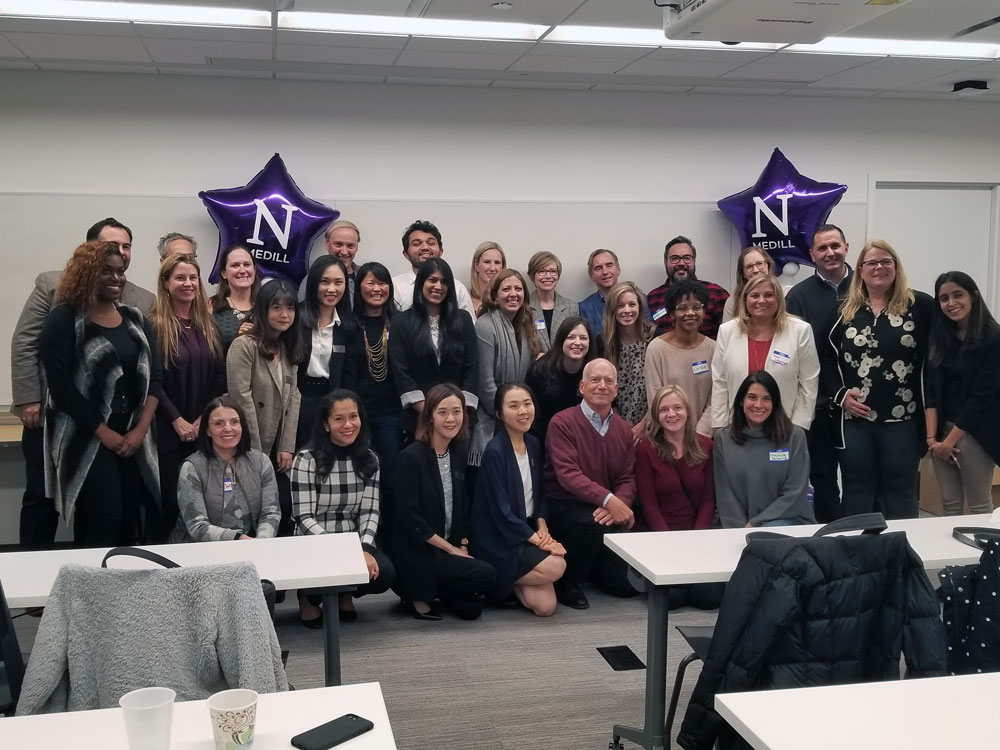 Prior to starting the Medill Integrated Marketing Communications (IMC) master's program and taking the Shopper Marketing course, Medill student Gayatri Sakhuja (IMC18) had no shopper marketing experience. Shopper marketing focuses on understanding consumers who are in a "shopping mode" and developing tactics—both in-store, near-store and online—that help drive sales in stores.
A year later, her presentation was selected as "best in show" by more than a dozen brand managers at the Medill IMC Coogan Partners Shopper Marketing Challenge. Through this challenge, Medill IMC graduate students had the opportunity to create campaigns to tackle real-world problems for Kellogg's Keebler Club Crackers, Colgate-Palmolive's Irish Spring, and Clorox's Brita. A total of 17 teams pitched strategies, three of which were chosen as winners to present to a group of brand managers from companies across Chicago earlier this month.
Sakhuja included storytelling in her campaign that centered around using Club crackers to make women with children feel like great moms. Her concepts included a cooking-show-style web series for children and encouraging moms to be creative with their kids. The goal was to heighten brand recognition and sentiment so when customers go to a store, they recall the story attached to the brand. This helps Club crackers stand out among the clutter of options. Her IMC experience led her to this idea.
"IMC has completely changed how I think about strategy," Sakhuja said. "My entire project was really heavily focused on the consumer insight. I think that's completely an IMC-driven perspective. In the past, I haven't thought much about insights—I've always jumped right into ideas, strategies and tactics without giving much thought to insights."
Coogan Partners is a group that gives brands a way to meet and learn from each other. Managing partner Ken Coogan set up the challenge 15 years ago after he recognized an opportunity for brands to discuss shopper marketing specifically. This year, marketing managers from companies such as Anheuser-Busch, Campbell's, Chobani and Starbucks were part of the group.
Sakhuja presented individually for Club crackers and part of a team for Irish Spring. She and fellow teammates Sujani Dwarakanath, Malav Naik, Sanjana Simon and Julian Walker pitched a web series to connect with millennial men on how to use Irish Spring products to redefine masculinity. First-quarter IMC students Cindy Cheng, Lily Chou, Claris Liu, Jenny Qin and Karen Wang had the winning project for Brita and proposed an app to track water consumption to increase sustainability and decrease plastic bottle waste.
"By the time I graduate I'll have worked on four shopper marketing projects: one in Immersion Quarter, two in this competition and one in my class," Sakhuja said. "In terms of resume and job hunting, it's a great experience to have had. It was fun and something we can talk about in interviews."
Coogan said he believes this competition, organized by Medill IMC Lecturer Marty Kohr, and Medill IMC as a whole are some the best opportunities for perspective marketing students.
"Some of these [participating companies] have openings and are wondering how they get these students' resumes because they're hiring right now," he said.