IMC alumnus aims to make brand voice stand out in crowded pizza market
CMO of Blaze Pizza Shivram Vaideeswaran leads marketing for growing, nationwide brand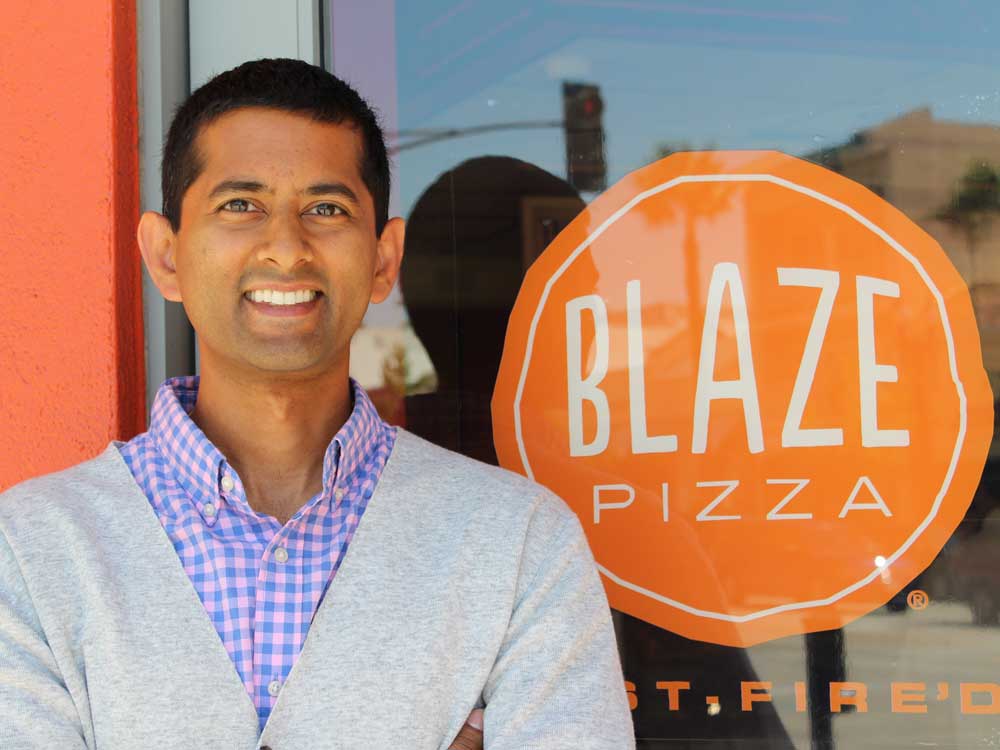 A lot of people love pizza, but Shivram Vaideeswaran (IMC07) might love it just a little more.
Vaideeswaran is the chief marketing officer of Blaze Pizza, with 240+ restaurants nationwide and plans for another 1,000, making it a top contender in a crowded industry.
Vaideeswaran graduated from Medill's Integrated Marketing Communications master's program in 2007. His advice for succeeding in marketing? Stay hungry for more than pizza.  
What has been your career path? What roles were you in prior to Blaze Pizza?
My first job post IMC was as an associate brand manager with Taco Bell. I was introduced to Taco Bell through several IMCers from the previous class who were working at Pizza Hut, KFC and Taco Bell, which are collectively owned by Yum! Brands. It was helpful to learn more about the corporate culture, the dynamic nature of restaurant marketing and the DNA of innovation that is at the heart of the industry.
I packed my bags, left my winter coat behind and moved out to sunny southern California. Taco Bell was a wonderful place to kick off my marketing career. I was given the opportunity to take on so many different projects – leading new product innovation, developing new sales layers, working with our agency on a Super Bowl ad and finding new ways to leverage technology to build the brand. It was a great run with a company that knew how to win over the hearts of the millennial consumer. 
Six years in, I had the opportunity to take all of the experience I had gained and lead marketing for our international team. It was exciting—our international team was built like a startup within the big brand: small team, small budgets, but a scrappy attitude to move mountains and make the impossible happen. 
As the head of marketing for Taco Bell International, I helped develop our brand voice, menu, customer experience and brand vision for over 26 countries around the world. Being able to open the first Taco Bell in Japan, China and Brazil, while leading the repositioning of our brand in the UK, India, South Korea, Kuwait and beyond, was one of the most fulfilling experiences of my career. Understanding global cultural insights to help drive our brand was so fascinating. I traveled the world, experienced our guests' lives from their point of view and helped craft our brand to meet their needs.
After three amazing years leading the team, I was ready for my next adventure. Fueled by the startup spirit, I went to lead marketing for Tender Greens, a farm-to-table fast-casual restaurant brand based in L.A. With 25 restaurants, it was a whole new opportunity to help position the brand for exponential growth. It was rewarding to roll up my sleeves, get back to grass-roots, local store marketing and leverage the power of digital to make the brand feel larger than life. I learned a lot in terms of how to stretch a budget, how to move at light speed and how to connect with guests on a much more intimate level.
From there, I was connected with the CEO of Blaze Pizza and we clicked on all things digital. It's the next phase of marketing and there is a huge opportunity to take this growing brand even further. 
What made you excited to take the position and what are the biggest challenges you face at Blaze?
The first thing is that I love pizza. It's my favorite food and always has been, so getting paid to think about pizza every day is definitely a dream come true. The second is the awesome growth that this brand has had: 240+ restaurants in five years, an immensely passionate following of fans and a thoughtfulness to set up it up for the next 1,000 restaurants and beyond.
I think our biggest challenge is that the pizza space is crowded: legacy delivery players, new up-and-coming build-your-own concepts and fine-dining concepts that are bringing pizza to the next level. We've built a strong brand and need to make sure our voice stands out above the clutter and that we stay focused on what's ahead.
Why did you choose Medill IMC?
I've always wanted to be in marketing. I love the creativity, the passion, the psychology behind it. My undergrad degree was in business, and I spent a few years in finance and consulting. I was able to gain some experience in the greater business community. An MBA felt very broad – I wanted to dive deep in to the world of marketing and where it was going. I loved the hands-on approach of IMC and the ability to gain real-world experience in areas of marketing that were just in their infantile stages. We were talking about social media 10 years ago when most other programs were still focused on TV. We were learning about how to leverage customer segmentation and consumer insights to drive innovation before anyone else. I loved every minute of it and would go back if I could.
How did the IMC program help you get where you are?
IMC helped provide me with the backbone to be flexible and adaptive in the world of marketing. What worked today will probably not work tomorrow – that's what makes our jobs so hard, but so rewarding. We get to create the next big thing, and have fun while we're doing it. 
The best byproduct of my experience is the wonderful group of friends that I made through the program. Not only were they great people to hang out and study with, but they've become the best group of thought leaders I could ever imagine. It's so amazing to have such smart people in your network to bounce ideas off of and even work with on new programs. Getting a text from my old IMC roomies makes my day.
What advice would you have for prospective or current IMC students who want to become a CMO one day?
Stay hungry. This industry is ever changing, be a voracious student and don't slow down. Most importantly, do something you love. You're going to spend more time at work than with your friends and family. Make it something that you want to get up for every day.