Medill Dean Charles Whitaker's statement in support of Medill alumnus and CNN Reporter Omar Jimenez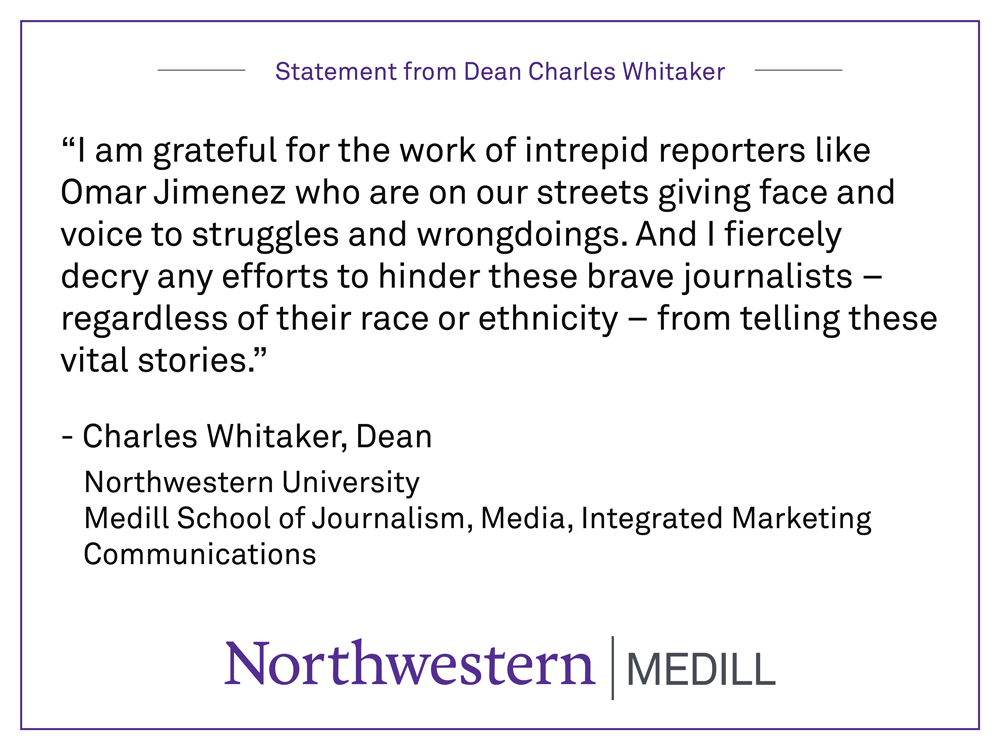 I watched in horror this morning as our alumnus and friend, CNN Reporter Omar Jimenez (BSJ15), was handcuffed and carted away by the Minnesota State Patrol for the sin of doing journalism. I was fearful and angry as this young man, in the midst of conducting a live shot that attempted to shed light on the devastating events playing out in the streets of Minneapolis, was surrounded and detained with little explanation.
I could not help but wonder whether his brown skin marked him for this indignity, and I thought of my own adult sons and the threat they face in a society that still too often demonizes African-American men. To his credit, Omar, a consummate professional, true to his Medill training, remained calm and respectful as his job and First-Amendment rights were impinged upon. I salute him for his bravery and composure. And while Minnesota Gov. Tim Walz has apologized for this egregious offense, I remain appalled that it happened.
Recent events – not the least of which are the disproportionately devastating effects of COVID-19 on communities of color – have once again placed our nation's racial divide in stark relief. I am grateful for the work of intrepid reporters like Omar Jimenez who are on our streets giving face and voice to struggles and wrongdoings. And I fiercely decry any efforts to hinder these brave journalists – regardless of their race or ethnicity – from telling these vital stories.
Charles Whitaker
Dean
Medill School of Journalism, Media, Integrated Marketing Communications
Northwestern University