World Health Organization and Medill offer national reporter training for covering heart disease, cancer and other noncommunicable disease killers
World Health Organization and Medill offer national reporter training for covering heart disease, cancer and other noncommunicable disease killers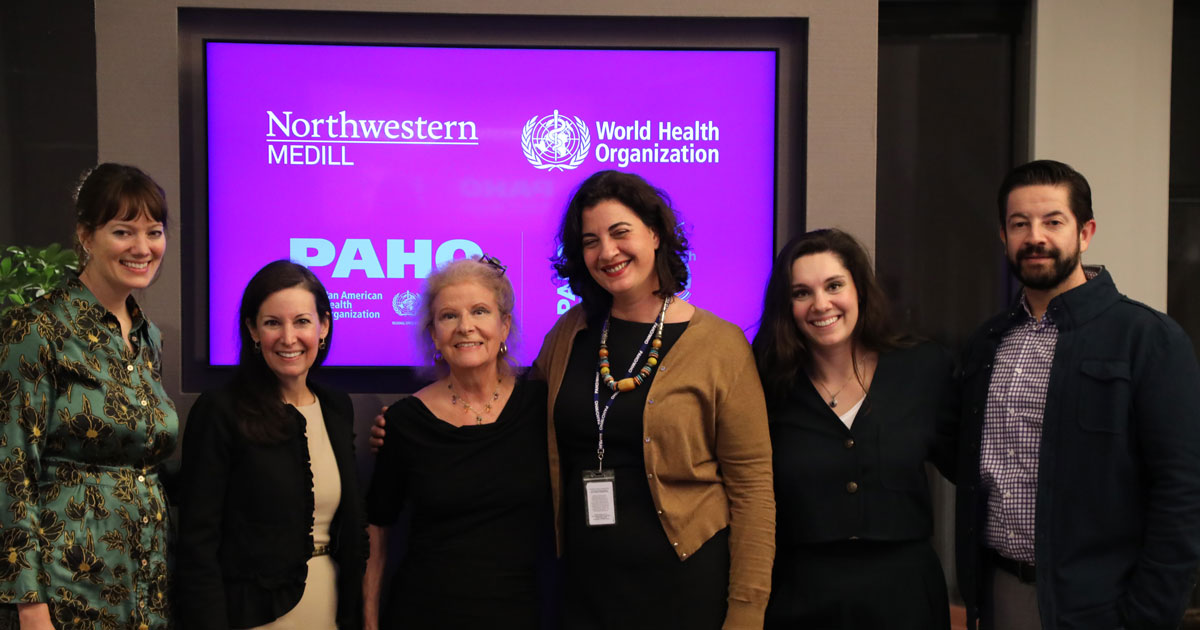 EVANSTON, ILL. -- The World Health Organization and the Medill School of Journalism, Media, Integrated Marketing Communications partnered to gather more than 20 early career reporters from across the country to Medill's Washington, D.C., newsroom for training on covering heart disease, cancer, diabetes and other noncommunicable diseases, or NCDs.
"COVID-19 killed 6.6 million people globally while NCDs kill 41 million people across the world every year and 2.6 million annually in the U.S.," said lead speaker Silvana Luciani, PAHO Unit Chief for Noncommunicable Diseases, Violence and Injury Presentation.
"Why does this matter? Because they are highly preventable – 86 percent of [heart disease] deaths could be prevented or delayed, 44% of cancer death could have been prevented or delayed," Luciani said.
A grant from WHO funded the training, with Medill, WHO and the Pan American Health Organization collaborating to develop and deliver programs meant to accelerate NCD reporting. Participants, including several Medill alums, proposed stories they plan to report.
"I am hoping to look at noncommunicable diseases through a youth lens. One story in particular I want to do is looking at where the industrial corridors are in my community and how that relates to where we have schools and if we see a correlation to asthma rates or anything like that." said AnnMarie Hilton (MSJ19), an education reporter with USA Today Network-Wisconsin.
"What Birmingham churches, what faith groups are doing in the community to bring awareness, talk about health, and talk about noncommunicable diseases that are happening in their communities. that's one story idea," said Jonathan Skinner of WBRC Fox 6 News.

WHO experts, health and policy leaders, Medill faculty and veteran D.C. reporters spurred coverage concepts and provided programs, resources and their continuing availability as sources. Participating reporters visited with health reporters and editors at the Associated Press and toured PAHO headquarters where the international health agency for the Americas tracks severe weather and disease outbreaks and provides support for emergency response. PAHO is also the WHO regional office for the Americas.

The training covered NCD risk factors such as high levels of added sugar in countless products and the dramatic increase in vaping among U.S. teens even as tobacco use in the country drops.

Nicotine from vaping is addictive, emphasized Matthew Myers, president of the Campaign for Tobacco-Free Kids. With vaping, tobacco companies now "have created the most effective addiction machine they have ever created before," he said.

Continuing virtual training brings participants together again with WHO and Medill on Jan. 23 and Feb. 10.
The Medill training leadership team includes Associate Dean Beth Bennett, training Project

Manager and Associate Professor Abigail Foerstner, Assistant Project Manager and Adjunct Lecturer Annie Krall, Director of External Partnerships and Programs Kate Lee, and virtual training Teaching Lead and Professor Patti Wolter.

"What's going to kill most of us in this room are noncommunicable diseases," said WHO External Relations Officer Jaimie Guerra as she presented results of a Gallup/WHO global study showing how harm from NCDs is underrated. The WHO leadership team included Guerra, PAHO Communications Coordinator Luciana Viegas, Communications Specialist Arantxa Cayon and content creator Ashley Baldwin.