Akash Pathak
Akash Pathak (IMC06)
Associate Vice President of Marketing, Humana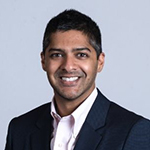 What is your fondest memory of your time at Medill?
My fondest memories are working with dozens of talented and smart marketers. In the IMC experience, you are immediately connected to a great cross-section of marketing talent from around the world and this enables you to stretch your thinking through collaboration.
Why do you think Medill is unique?
IMC is ahead of the curve when it comes to driving integrated marketing, data-driven strategies and consumer insights. There's no other curriculum that I've seen, where they emphasize these areas as much as Medill IMC does and then help students build real-world expertise in these areas as well. 
How has your Medill training helped you in your career so far? Are there skills or lessons you learned at Medill that you still use today?
It gave me a great jumping-off point in being consumer-centric and understanding how to leverage data in marketing. The skills are strongly differentiated from other programs and have positioned many students for areas of growth in today's economy. Digital has unleashed incredible marketing possibilities through the eyes of the right data-driven marketer and today's world demands we focus on customers because of how much choice, voice and information they have.  
What advice do you have for someone who might be looking to pursue a degree in IMC?
Keep an open mind as you enter the curriculum to take on new challenges, work closely with your fellow students to learn from their diverse perspectives, and challenge yourself after IMC to take your interests and work to new places.