Albert Lin
Albert Lin (IMC08)
Head of International Marketing at CINDY CHAO The Art Jewel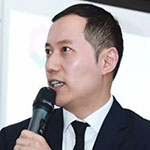 Why did you choose Medill?
Medill was the natural choice for me as it had the Northwestern reputation and world-class faculty. I also was interested in a more well-rounded look at marketing communications.
What is your fondest memory of your time at Medill?
The group work was my fondest memory. My first group had members who worked in marketing in China, advertising in Taiwan, an Internet startup in San Francisco, and PR in New York. It was such a great insight into the global world of marketing, and it really defined my Medill experience.
What was the greatest challenge you faced during your Medill career?
The finance class was probably my greatest challenge. But for a marketer, it really helps you build the foundation for creating holistic marketing campaigns.
Why do you think Medill is unique?
The faculty is probably the single most unique element to Medill. I'll never forget the enthusiasm, passion, and professionalism that Professor John Greening displayed during our first class. His candid sharing of his long career in advertising was one of the reasons I chose to go into advertising after graduation.
What was your greatest achievement or best experience?
Our Kraft Foods/DraftFCB global residency project in Shanghai probably shaped my career into what it is today. We were tasked to come up with a new breakfast item for busy professionals in China. We conducted focus groups, went to the market and really tried to understand the needs of the client. It was a lot of hard work, but in the end, we really exceeded their expectations, and I ended up with a job in Shanghai and live in Asia even today.
How has your Medill training helped you in your career so far? Are there skills or lessons you learned at Medill that you still use today?
The consumer-centric approach is something that I continue to use and refine every day. It is the notion that all the marketing strategies we plan revolve around a singular point: the customer. Too often, our industry is focused only on creating marketing plans to impress other marketers.
What advice do you have for someone who might be looking to pursue a degree in Integrated Marketing Communications?
While everyone explores subjects that they like in undergrad, IMC really brings everything together with a real-world perspective, making sure you have the proper skills, tools, and mindset to work in the marketing and communications industries.