Ali Haeri
Ali Haeri (IMC17)
Vice President of Marketing at SteelHouse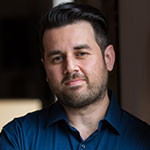 At SteelHouse, Ali Haeri (IMC17) oversees all aspects of marketing operations. His main priorities are helping the company build its brand and driving SteelHouse's revenue. Strategy is key to his role, and he believes he developed this skill through courses in the Northwestern Medill Integrated Marketing Communications (IMC) master's program for working professionals.
Haeri says that Medill IMC helped him go from a good, ground-level marketer to a great strategist by teaching him to have intention behind everything he does.
Tell me about your career path so far.
I finished college in 2008 and was hired at a boutique advertising agency in Hollywood.
I've spent most of my years since then working in a variety of marketing roles – on the agency side and on the brand side, for early-stage Silicon Valley startups and Fortune 500 companies
What are your main responsibilities as VP of marketing at SteelHouse?
We have three major functions within marketing: digital marketing, content marketing, and design. On the digital marketing side, we drive revenue for the business, so it requires a lot of attention and ongoing optimization
With content marketing, we're creating assets that are used by both the digital marketing team and the sales organization to help with outreach to prospects. Finally, our in-house design team is a collection of designers, web developers and video producers, responsible for our entire visual identity.
My job is to steward the entire marketing operation toward our greater goals. This involves quite a bit of strategy, similar to a lot of the exercises found in various Medill IMC courses.
How do you apply the IMC way of thinking that uses both art and science in your job?
IMC influenced me as a marketer in two important ways. On a tactical level, IMC taught me that the seemingly disparate functions of marketing should actually be coordinated with one another. I always describe it to my team as feedback loops – digital marketing enables content marketing because of the front-line analytics and data we collect that influences what we write about. Content marketing enables digital marketing because without it, nobody is going to convert on digital marketing campaigns out of sheer curiosity.
On a strategic level, IMC now has me always working backward. Whatever it is we're looking to do, I always start with the prospect I'm trying to influence. I work backward thinking of the campaigns and efforts that would find their way to that person we're trying to convert. This approach keeps you focused on your target prospect in a way that's generally hard to do with all of the noise (best practices, marketing publications, thought leaders, social media, etc.) in the marketing industry.
In the past few years at SteelHouse, you've transitioned from director to senior director and now VP. Did your IMC degree help you make this career advancement?
Something related to studying IMC that I feel strongly about is how it changed me as a marketer. When I came into the IMC program, I feel like I was a very good ground-level marketer. If you gave me a marketing task, I could execute. And if it's something I hadn't done before, I'd learn how to do it to get the job done. My work ethic and my curiosity took me a very long way.
But while I feel like I was a very good operator, I didn't really know the first thing about marketing strategy. I had no idea where it came from, how to express it and how to implement it.
A couple years after graduating from the IMC program, I remember sitting at work and I was in a trance. I was creating a go-to-market strategy for a big software release, and the thoughts were just effortlessly pouring out of my head onto the page. What was more impressive was how incredibly well-organized my thoughts were on the page. It was at that moment, well after my time in the IMC program where everything clicked, and I realized how everything changed for me.
What is an experience or class from the IMC program that stands out for you?
The class I think about a lot is not actually something that I find myself doing (fortunately) in my day to day grind, but a lot of the coursework stuck with me; the class was Crisis Communications.
Crisis Communications was the first time I ever learned about the measurable financial impact tied to bad publicity. We studied an example where a chain of restaurants was mired in a weeks-long PR disaster that was affecting their sales – they felt they were owed a certain amount of money from a franchisee and chose to shut down the business until the franchisee paid up. At one point, their crisis communications consultant calculated the financial impact of sales lost because of the negative publicity and compared it to the amount of money they felt they were owed. That simple calculation tied to a communications strategy changed everything.
How have the Northwestern and Medill networks in your career?
I attended UCLA as an undergraduate, which is a very big school. And I still live in Los Angeles, so I see fellow UCLA grads everywhere I go. But the downside to having attended such a large school is that it's almost too big to have a meaningful alumni network.
Northwestern and Medill grads are not everywhere, but they're everywhere you want to be. I don't run into Northwestern or Medill grads at the supermarket here in LA, but I run into them at nearly every major brands' marketing management team. Northwestern grads are smart and they're likely to work at the most interesting companies and on the most interesting projects.
The Medill IMC community is incredibly well-organized and interconnected considering its size. I always tell Medill Career Services that if there's a Medill grad interested in working in LA, send them my way so I can help them however I can.
What other types of master's programs did you consider?
Before applying to the IMC program, I was well on the path to attending business school. But at the same time, I came across some marketing material for the IMC program and it immediately piqued my interest. I decided to attend Medill instead of business school because I felt like I was already a good marketer, but I just needed to "fill in the gaps," so to speak. The talent was there, but I needed to formalize that marketing ability with courses in things like consumer insight, financial accounting, customer segmentation, etc. The IMC curriculum seemed like exactly the things I was looking to learn to make myself a better marketer, as opposed to a lot of the MBA curriculum that I would do not out of interest but just to get the degree. I chose the IMC program and never regretted it once since.
What advice do you have for someone considering Medill?
Having spent some time since graduation, something I feel strongly about is how someone should think about how their Medill IMC degree serves them in their careers.
I had some classmates that assumed career success should be handed to them on a silver platter just because they're graduates of the IMC program, but that's not how graduate degrees work. While a strong alumni network is nice – and we've got one with the Medill IMC program – you should instead be thinking about how the degree levels you up as a marketer first. Always bet on yourself, not on your degree, or your connections, or your friends, or anything else.
Looking back at my own career success, the Medill education and degree certainly helped me get to where I'm at today. But it was always an attribute of my marketing career, not the entirety of it.
So if you're a marketer who has built an impressive career so far through experience and feel like it's time to formalize things a bit as you start looking towards a future in marketing leadership, you have to seriously consider Medill.