Drew Favreau
Andrew "Drew" Favreau (IMC20)
Senior Digital Marketing Manager at Microsoft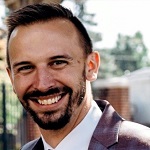 Drew Favreau (IMC20) thought he would one day perform in the clarinet section of a major symphony orchestra, but after a marketing and PR internship with a music festival, he realized that marketing provided additional room for creativity.
Favreau chose the Medill IMC program for his second master's degree to build on his experiences and learn new skills. He was attracted by the IMC program's reputation and tradition of applying innovative, new ideas to understanding and engaging with customers. He also wanted to learn from current industry leaders at Medill.
What is an experience or class from the IMC program that stands out for you?
Traveling to Singapore as part of the Global Perspectives Asia class stands out for me. Presenting a brand innovation strategy to executives at Mediacorp, Singapore's largest content creator and national media network, in partnership with students from China and Chile was a once-in-a-lifetime opportunity. To help students understand commerce and consumer behavior across the Association of Southeast Asian Nations, Medill IMC partnered with other top colleges and universities in Singapore to host the class.
How did your IMC degree help you make career advancements?
My IMC degree helped me up my game. Every class sparked new ideas on how I could evolve my brand strategy and develop new initiatives in partnership with key stakeholders. Earning this degree enabled me to increase my reputation as a strategic and creative thinker within the company. It also gives me a tremendous sense of pride and accomplishment. 
How has the Northwestern/Medill network helped you in your career?
Being a Northwestern/Medill alum instantly connects you with other leaders in the field at top companies around the world—wherever your career takes you. In my experience, alumni make time for each other and invest in these relationships.
Was the flexibility of the IMC program beneficial for your life and career?
The Medill IMC program grew with me when I relocated for my current role. Studying online provided me with additional flexibility while working full-time. To balance my online experience, I participated in several week-long immersion classes offered in different locations. This gave me the opportunity to continue learning in a classroom environment and meet members of my online cohort in-person.  
What advice do you have for someone considering Medill?
Take advantage of every opportunity. There are few moments in your career when you have an all-access pass to learn directly from some of the top leaders in marketing today. I had no idea how powerful this experience would be and how many doors could open as a result.