Chris McClurg
Chris McClurg (IMC15)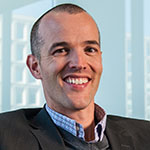 CEO and owner of Jim Henry Inc
How did the IMC program help you get where you are today in your career? 
The IMC program helped me get where I am today through what I call the 3 Ps of IMC: People. Performance. Pedigree. The IMC program connects you with some of the best thought leaders in the industry, gives you the tools necessary to win in today's digital marketing and communication landscape and with Northwestern and Medill you have two of the biggest names in the industry. People know the names and they trust the product. Now that my LinkedIn profile says Northwestern graduate, the phone rings a lot more.
What skills did the IMC program give you to move forward in your career? 
The IMC program helped me better develop my leadership, analytical, marketing and business skills. I am a more effective communicator both internally and externally. These skills have opened doors inside and outside of my company. I even believe the skills I learned helped me land my newest job as Director of Customer Experience at Abbvie.
What was one of your favorite parts of your IMC experience? 
My favorite part of the IMC experience was the people. Both the fellow students and the professors push you in a way that drives the best out of you. You will look back on your experience and you won't believe how far you came. After you graduate, that same network will help push you forward through your career too. Everyone is just a phone call away.