Connor Regan
Connor Regan (IMC20)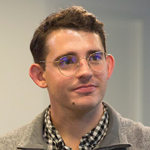 Analyst, Global Policy, YouTube
Working to make the world a better place can come in many forms. For Connor Regan (IMC20), this desire led him to work at his dream company Google, where he has researched ways Google can assist refugees and developed tools to educate children about being savvy online. 
Currently, Regan is working in San Francisco as a global policy analyst for YouTube. When he's not in his office, he can be found working on obtaining his master's in Integrated Marketing Communications from Medill's Online program. He might also be found practicing his Dutch. 
Tell us about your career journey so far. 
I'm a proud "double Wildcat," having completed my undergraduate degree at Northwestern a few years ago. I studied learning and organizational change and minored in entrepreneurship and business institutions. During this time, I made a concerted effort to prioritize gaining "real-world" work experience. By the time I graduated, I had completed internships in fields as diverse as multicultural marketing consulting to venture capital and product management to startup operations. Two of those internships were at Google, an organization I fell in love with almost as much as Northwestern.  
After graduating, I returned to Google, where I was initially responsible for critical topics like privacy, security and children. Besides working on products that help billions of users understand and control their relationship with us, I spent significant time focused on how we can help equip kids to be safe, confident explorers of the online world.  
Why did you pursue the Medill IMC degree and how is it helping you? 
I decided to pursue my masters in integrated marketing communications because I felt that being able to bring a more theoretical, research-backed approach to my work in Google Marketing would make me a unique and valuable asset. I specifically chose Medill for its unrivaled reputation – IMC literally started here! – and for the ability to continue working while studying. The ability to learn new concepts and techniques in class and then go to the office the next day to experiment with them is insanely valuable in my work.  
Last quarter, I took a great course called Shopper Marketing, which was immediately applicable. In fact, the author of our primary textbook is actually a consultant that we work with at Google. If that doesn't show how real and relevant our coursework is, I don't know what does! As the person directly responsible for shopper marketing in my countries, I was able to take a concept from a lecture or textbook reading and immediately put it to the test the next day in my retail stores.  
In addition, the ability to experiment with concepts in class with real budgets and targets offers unparalleled learning. Plus, distance learning allows me to be able to bring a global perspective to my course discussions and group work. The different perspectives brought by students in so many different roles and life stages is a real benefit to our learning. 
How has the IMC way of thinking that blends the art and science of marketing communications changed the way you approach your work? 
Part of the reason that I love working in marketing is the ability to get my creative juices flowing. Some of my favorite days are those spent with partners huddled around whiteboards, playing out various storylines or user journeys. I really appreciate the unstructured free thinking these exercises are based on. I didn't realize until I started taking classes in IMC just how strategic creativity can be.   
Learning how to think about consumer motivations and branding strategy in an academic way has helped me bring a nuanced view to my team's discussions. At the same time, I'm more convinced now than ever before that marketing is nothing without the science. My coursework at Medill has been especially helpful in adopting a measurement-first approach to marketing. Creativity and human expression are what engage prospects and build emotional attachments to our brands, but if we can't measure, quantify and track trajectories, the powerful impact of creativity can't be proven and supported. I've seen firsthand how much easier it is to get executive and cross-functional buy-in when marketing ROI is soundly tracked and acted upon. This analytical focus is critical. 
Tell us more about your recent assignment in the Middle East. 
I recently had a very cool opportunity to be part of a research mission in the Middle East, focused on refugees and internally displaced people. Google is a company that aims to build "for everyone," and that requires developing and nurturing an understanding of our users' needs. IMC is all about user-centricity and a big part of creating value for people is understanding them and their needs in an authentic way.  
Our research was focused on exploring ways that Google can do more to help. I had previously taken Statistics and Marketing Research at Medill, and the research skills I learned paid dividends while working alongside the United Nations and talking to refugees at the world's second largest refugee camp, Za'atari. My coursework in Consumer Insight also helped me to really dig deep to find valuable, actionable insights. After all, metrics, data, and facts are not insights on their own and it requires skill to take an observation and build it into an insight that a global enterprise like Google can act on. 
Anything else you'd like to add? 
I'm really grateful for the personal growth that Medill has given me. It's an honor to be able to share my perspective with alumni, classmates and prospective students. Go 'Cats!