Fabian Gehring
Fabian Gehring (IMC18)
Digital Brand Marketing Manager at Bosch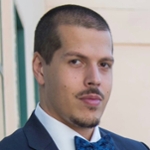 Growing up in Germany, Fabian Gehring became passionate about marketing as soon as he learned of the field. After moving to the U.S. to work for Bosch, a master's degree in Integrated Marketing Communications from Northwestern Medill gave him the opportunity to take a much deeper dive into the field he loves.
Tell us about your career path so far.
I received a bachelor's in business administration in Germany. After working for a boutique marketing agency and Mercedes-Benz, I was offered the chance to work abroad in the U.S. for Bosch, a Fortune 100 global company. Within Bosch, I previously held an internal marketing focused role, also known as B2E (business to employee).
What are your main responsibilities at Bosch?
I am currently a digital brand marketing manager at Bosch. I oversee different marketing areas ranging from high-level market research and marketing strategy development, to leading the campaign and content creation, execution and measurement of specific marketing communication tactics. These tactics include social media, influencers, digital media outlets and public relations.
How do you apply the IMC way of thinking that uses both art and science in your job?
After going through the program, the IMC way of thinking truly became part of my professional DNA. Every strategy I develop, decision I make, and approach I choose reflects the analytic and customer-centric IMC mindset. IMC taught me to ask the right questions and marry art and science to create results-driven marketing strategies and programs.
Why did you decide to pursue your master's degree?
During my bachelor's studies in Germany, I just scratched the surface of marketing knowledge. Ever since I learned what marketing was, I've been passionate about it. But now I was craving that deeper understanding. A master's degree was the next logical choice for me.

I chose to pursue a master of science in IMC because I wanted a purely marketing-focused program and deep dive into specific marketing areas. After researching different programs, I decided to apply for the Medill IMC program because of the unmatched quality of faculty, the go-getter peers with amazingly broad backgrounds and the powerful alumni network. This combination ranked the program number one for me.
What is a class or experience that sticks out in your mind and why?
Every class was precious for my personal and intellectual growth. There were too many great classes, professors and experiences throughout my studies just to highlight one. The one aspect I underestimated was the amount I learned from my peers.
How have the Northwestern and Medill networks helped you in your career?
Whenever I reach out to Medill alumni or faculty, the support is overwhelming. I now understand why the Northwestern and Medill network is often associated with family. Everyone I talked to went out of their way to help out: Be it taking my call while boarding a plane, writing recommendations, or providing guidance and mentorship. All of this is invaluable for me and goes beyond just education.
Anything else you'd like to add?
I would do it again, in a heartbeat. Here are some more of my highlights:
Approachable and caring professors with top-tier backgrounds. I am still in contact with many of them even after graduating.
Inspirational guest lectures from professionals of industry-leading companies.
Sleek downtown campus and dinner provided prior to class.
Insightful student-organized networking and guest speaker events.