Jenny Riley
Jenny Riley (IMC19)
National Marketing Director, Energy Solutions at APTIM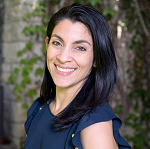 Retirement services, a law firm and fighting climate change may not seem too similar—but they're all areas in which Jenny Riley (IMC19) has contributed her marketing skills. Her current position, national marketing director, energy solutions at APTIM focuses on the latter—she's part of a team that improves the quality of life for environmental workers. Through strategic marketing and communications efforts, she helps provide services to underserved communities.
Riley chose the Northwestern Medill integrated marketing communications master's program to become a stronger leader and more advanced marketer. 
Tell us about your career journey.
My career started in the financial industry. As I grew into higher positions, I was eventually promoted to director of client services for an investment firm. This is where my journey as a marketer and communicator also began and I never looked back.
After working in other industries as a marketer I wanted to enhance my marketing repertoire and could only do that by obtaining my master's in IMC at Medill. 
How has the IMC way of thinking helped you in your career? 
The IMC approach is all about customer centricity, putting the customer first. My training at Medill taught me about what today's customers are increasingly expecting from brands. It also taught me the approaches to build and position brands to be part of something bigger and to move beyond social consumption and play a part in making the world a better place. Part of this was learning how to further use data as a key ingredient to any strategic marketing effort.
Why did you decide to pursue your master's degree?
For me, Northwestern's Medill IMC program was the clear choice. I knew through Medill's IMC program I would learn the fundamental principles needed to become a stronger leader and asset to any organization. Medill IMC would further my understanding of building relationships with consumers, strategizing and solving market challenges and building brands that convey consistent messaging in the digital age. The IMC program is where rules are followed to build a strong foundation, but leaders are formed by allowing creativity.
Was the flexibility of the IMC Online program beneficial for your life and career?
Yes, and I highly recommend it to anyone juggling a full-time job and family. The program offers tremendous flexibility while being rigorous. Having taken classes online and in person provided a diverse perspective and allowed me to meet so many amazing professors and peers. Many of my classmates had key management positions in their companies. This allowed for incredible real-world learning experiences.
What is an experience or class from the IMC program that stands out for you?
Every single class provided great learning, insights and new tools to use. One of my favorite classes was Marketing Research. I took this class my first quarter and it set the stage for the rest of the program. It provided an overview of the marketing research process, statistical analysis, questionnaire design, sampling and experiment design and hypothesis testing. The class also focused on how to use visualization to tell the story behind the data. I integrated the learnings from this class into my marketing presentations at work and it was a game changer.
Another class that I must mention is the immersive Global Perspectives – Brand Innovation in Santiago, Chile. This class opened my eyes to innovation frameworks and digital disruption in Latin American markets.
Have you been able to leverage the Medill network in your career?
One of the best things about this program is the network that you build. I stay in contact with many of my former peers. Their sharing of life experiences, opportunities, or simply brainstorming new ideas has been invaluable. I also consider many professors lifelong mentors.
What advice do you have for someone considering attending Medill?
Go for it! There has not been one day where I regret making the investment that I did in myself. It is truly a journey and I guarantee you will come out with a stronger skillset, a new family and the Northwestern brand to back you anywhere you go.