Kelly Brockmeier
Kelly Brockmeier (IMC19)
Director of Public Relations at the Wounded Warrior Project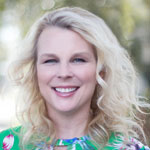 As a self-described specialist in the artistic side of marketing, Kelly Brockmeier turned to the Northwestern Medill Integrated Marketing Communications master's program to refine her data science skills. After managing media relations for two medical centers in Florida, she now implements both the art and science of marketing as the director of public relations at the Wounded Warrior Project.  
Tell us about your career journey. 
I started my career working in TV news and did everything inside a newsroom you can imagine from lights, teleprompter and camera to eventually managing my own newsroom as an assistant news director. In 2006, I left news to manage PR for a large academic health system and that led to a marketing director opportunity with another national health system. I currently serve as the director of PR and social media for Wounded Warrior Project (WWP), an organization that offers a variety of programs, services, and events for wounded military veterans.  
When I think about the journey and how I got where I am, I credit it all to the ability to tell great stories. People and organizations can get hung up on titles and functions (i.e., marketing vs. PR vs. social vs. advertising), but at the end of the day, brands that have an innate sense of how to connect with people in various mediums are the big winners. Storytelling and building those connections for purpose-based organizations like WWP gets me up in the morning.  
What are your main responsibilities at WWP? 
My main responsibility is to grow our PR and social efforts. Prior to my arrival, my PR team was engaged in traditional PR activities (mostly pitching media) and had lots of success. I am now challenging them to take it to the next level by telling our own stories and repurposing our content. By focusing on the benefits of multimedia, we are starting to see gains. It's exciting since this is where my passion and expertise lie. 
How has the IMC way of thinking that blends art and science helped you in your career? 
As a storyteller, I love that IMC puts the customer at the center of everything. It was the marriage of art and science that attracted me to the IMC program. I was great at the art piece of the equation but needed to refine the science part. Concepts like "lifetime value" are now part of my vernacular thanks to IMC. I can and do stand toe-to-toe with business school grads and would argue I have the advantage because I am more well-rounded.   
Why did you decide to pursue your master's degree? 
I was serious about growing my career and many of the opportunities I was interested in either required or preferred a master's prepared candidate. The flexibility of the IMC classes was a huge benefit, allowing me to attend a prestigious university without having to move my career or family. Additionally, the program was built for someone like me that wanted to focus more on marketing while also being challenged with MBA-style required classes like statistics and financial accounting. It's a marriage of the best of both worlds—art and science.   
What is an experience or class from the IMC program that stands out for you?  
The sheer exposure to ideas, concepts, and expertise in the program was unbelievable. One of my professors headed up shopper marketing for Coca-Cola! I share this fact often because I learned from experts at the top of their fields. I sat in class and learned from fellow IMCers with incredible backgrounds, working at some of the world's most iconic companies like Tesla, Wendy's and Yelp. The list goes on and on. I was in really good company!
What advice do you have for someone considering Medill? 
If you are looking to differentiate yourself from the MBA crowd this is the program for you. If you're a creative that needs to stretch yourself into more left-brain pursuits, the program will do that. Conversely, if your strengths are more scientific and you want to be challenged creatively, this program will do that like no other. It really is the best of both worlds and students leave extremely well-rounded.   
Anything else you'd like to add? 
The IMC program is the single largest investment I have made in myself and it was worth every penny. I am extremely proud to say I am an alum of this program!