Kelly Stack
Kelly Stack (IMC19)
Marketing Strategy at AbbVie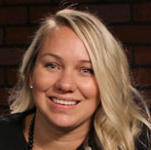 Kelly Stack worked in start-ups and advertising agencies before becoming digital strategy director at Northwestern. In this role, she helped form the Office of Global Marketing at the University.
During her time at Northwestern, she started the IMC master's program, finding the flexibility to balance work, school, and her personal life. Now the principal at Stack Consulting, she was previously chief marketing officer at Edcura Inc., which helps colleges and universities leverage data, analytics and processes to refine their strategy, amplify marketing, increase enrollment and support financial stability.
How has your Medill training helped you in your career so far?
My Medill training has helped me in countless ways, both macro and micro. From a big picture, putting the consumer at the center of my work is a key tenant of my marketing philosophy. There are also small details from classes I questioned needing to take - like financial accounting. In my first board meeting as a CMO, I not only knew what EBITA (earnings before interest, taxes, and amortization) was, but understood my organization's role in it and was able to add value to the conversation.
How has the Northwestern name been helpful to you in your career? 
During the journey to my current position, I'm confident that having Northwestern graduate school on my resume and LinkedIn didn't go unnoticed.
What is an experience that stands out from your time at Medill? 
The immersion courses, such as MarTech in Chicago and Design Thinking in San Francisco stand out. We had fabulous, thoughtful, dedicated professors and smart, collaborative and kind classmates.
What advice do you have for someone considering Medill? 
Start now. You won't regret it.