Lindsay Alston
Lindsay Alston (IMC17)
Assistant Brand Manager for Garrett Brands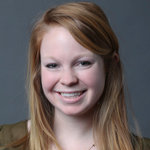 Lindsay Alston graduated from the Northwestern Medill Integrated Marketing Communications (IMC) master's program in 2017 and is now an assistant brand manager at Garrett Brands. She remains grateful for her Medill education and attributes much of her professional success to her time in the IMC program. The program allowed her to pursue her degree in a way that worked for her, as she completed her coursework while also working full-time.
Why did you choose Medill?
I loved the marketing focus of the program and the emphasis on brand strategy, while still getting a foundational education in finance, accounting, and statistics.
What made the IMC program work for you?
The program is all about balancing work, school, and personal life. This was the key to my success, as well as having a strong relationship with professors who were always very understanding of work commitments and wanted to help you learn and grow within the marketing field.
What was an impactful experience you had in the IMC program?
I loved the group project work. It's through projects that I was able to apply the skills I learned in class and work together with students that have become lifelong friends.
How has your Medill education helped you since graduation?
Northwestern's IMC program has played a pivotal role in my marketing journey and career in brand management. Team projects (a personal favorite), helped provide me with real-world opportunities to tackle business problems and leverage consumer insights. Also, the consumer-centric nature of the program will forever be ingrained in me - it's at the core of what I do, and how I think each day. 
The IMC program has helped me think differently about my day-to-day work and how all the functions of marketing work together, which in turn has helped me show up more strategically for my clients.
Tell us about a time you used the Medill alumni network.
I recently started guest lecturing at Northwestern for the IMC program around topics I'm particularly passionate about, such as brand storytelling. I have been able to leverage the Medill network and stay connected with my professors, which is great. Also having the opportunity to teach and be a part of other IMC students' journeys is very rewarding.
What advice do you have for someone considering Medill IMC?
If you're passionate about marketing and have a love of learning, this is the place for you! Joining the program was a great decision for me. I've made wonderful friends and met great mentors and teachers. I'm so glad to be a part of the IMC family.