Max Vice-Reshel
Max Vice-Reshel (IMC17)
Account Executive, Enterprise at Salesforce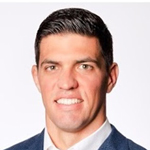 When Max Vice-Reshel (IMC17) saw how quickly colleagues were advancing their careers in his field, he knew he'd have to keep up. Thanks to the IMC program at Medill, Vice-Reshel was able to broaden his approach to marketing through its focus on the art and science of marketing communications. Through this holistic approach, Vice-Reshel expanded his responsibilities in digital media and is now an account executive for enterprise at Salesforce. 

How do you use the IMC way of thinking in your current role?  
My biggest takeaway from IMC was understanding a more holistic approach to the art and science of marketing. Before IMC, half of my career was spent in consumer-packaged goods and half in digital media.  Those are very siloed verticals within marketing. IMC broadened my approach and thinking. I think this will help speed my career trajectory and allow me to be more valuable to my clients.

Why did you decide to pursue your master's degree and choose Medill IMC specifically?  
I began to see a trend of candidates I was competing against moving their careers paths at a very fast pace, and for the most part, they had post-graduate degrees. I knew that in order to compete I had to specialize my skill set. I had already spent eight years in marketing, so IMC was a natural fit for me.

What is an experience or class from the IMC program that stands out for you?  
The Red Wing Boots capstone project easily stands out as my most memorable IMC experience. The hands-on work with four incredible professors coupled with real-life pitch presentations to the company's CMO--I will always cherish my time on that project and admire RWB as a brand.

How has the Northwestern/Medill network helped you in your career?  
What's interesting is how many people I've met in my line of work that are IMC graduates.  There seems to be a general bond of Northwestern graduate students, regardless of degree, that I have seen.

What advice would you give to a future IMC student?  
Throw yourself into the mix early and often. Get involved. Two years goes by so fast. Soak up every minute, interaction, relationship….read and save all the material!

Anything else you'd like to add?  
I loved my time in IMC and look forward to getting more involved as an alum this year!