Nate Clarkson
Nathaniel Clarkson (IMC17)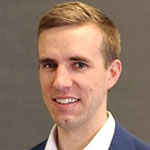 Paid Search/Social Supervisor, Cramer-Krasselt
How did the IMC program help you get where you are today in your career?
When it comes to breaking into the agency community, the value of the Medill network can't be overstated. No one is going to hand you a job just because you attended the same school; networking doesn't work like that. But every Medill alum I contacted was willing to spend time with me to share info and offer advice in my job search. All of those phone calls and coffee meetings with alums, current classmates and Medill career services staff played a critical role in helping me land at a top agency.
What skills did the IMC program give you to move forward in your career?
The Medill IMC program fosters a culture that expects us to be better. Trust in cherished institutions (government, the press, business, etc.) has been declining for many years. We aren't trained to push product and sell widgets at all costs. We discussed at length how to grow businesses the right way and ultimately play a role in restoring trust in businesses and other institutions vital to strong and vibrant communities.
What was one of your favorite parts of your IMC experience?
One of my favorite aspects of the IMC experience is one that I think goes relatively underappreciated. People are occasionally surprised to learn that our IMC program is housed under a journalism school rather than the business school. But I think this arrangement is mutually beneficial for both the BSJ/MSJ and IMC programs. Journalists are natural storytellers and have much to offer marketers seeking to connect with increasingly segmented audiences. I enjoyed my interactions with the journalism students, and I hope others will look for opportunities to continue that symbiotic relationship.