Nathan Jokers
Nathan Jokers (IMC19)
Director of Social and Emerging Media at VMLY&R Chicago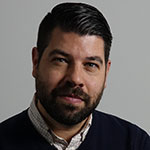 Nathan Jokers (IMC19) started his career in public relations, but with the emergence of social media, he quickly became interested in being able to market his clients online. This interest took him into advertising, particularly determining where social media fits within the larger integrated marketing communications strategy. Over the last decade, he's built his specialty in the field by not just adhering to standards put in place by social networks but by developing frameworks that allow his agency's clients to truly excel in the conversational marketing space. "I love the ability to connect brands with consumers on an emotional level and be able to use social media to solve our client's challenges," says Jokers.

What are your main responsibilities as director of social and emerging media at VMLY&R?
As social media director, I lead all social media strategy and community engagement for our Chicago-based and several regional clients. This also means I have the pleasure of working with some of the most talented strategy and community management leads in the industry. I've led social media across many categories and global clients, including Kraft Heinz, General Mills, BP, Tyson Foods, Kellogg's, Nestle, Coca-Cola, Dunkin', Xerox and more. My focus is building results-focused, multi-channel marketing programs with an emphasis on positive return-on-ad spend, new customer acquisition, and building brand loyalty and equity within the social and conversational marketing space.
How do you apply the IMC way of thinking that uses both art and science in your job?
I apply the IMC way of thinking in nearly every facet of my career. These fundamentals allow me to take a step back and evaluate my efforts within a much larger spectrum. It's easy to find ourselves siloed in our own niche of marketing. But it's critical to be able to dissect audiences to determine your target, understand a media approach, find innovative ways to reach consumers at shelf, fully understand product truths and promises—and a lot more—in an effort to shape how to meet the right consumer with a compelling message in the right place at the right time. It's about perspective, and making sure all of the moving pieces work in harmony.
What other types of master's programs did you consider?
I scoured many different programs across the U.S., however the Medill integrated marketing communications master's program met all of the criteria I was looking for in continuing my education. Medill IMC offered a program that was flexible, especially when juggling a demanding career. Despite living in Chicago, it also provided remote learning with the opportunity to attend class anywhere, which catered to a busy travel schedule. Medill IMC offered a dynamic program that aligned most-closely to my career trajectory within the marketing space. And lastly, best-in-class professors that are top of their game and edit the curriculum at the speed of marketing.
How has the IMC degree helped you advance your career?
The IMC program has helped in my overall growth at the agency. I have a much cleaner picture of how social media fits within holistic campaign development and can use this to determine how my efforts can complement other tactics. In the social media space, you hear a lot of consumer feedback, from issues with a product, challenges finding it, suggestions for improvement, new ways to use it, and ultimately, what consumers expect from our brands. This feedback can be critical in understanding new ways to market, how to feed the innovation pipeline, determine supply chain gaps and manufacturing faults and how to build brand love. IMC allows us to see the concert of tactics working together, and I love to see how I can offer value across so many other teams to create an incredible omnichannel consumer experience.
What is an experience or class from the IMC program that stands out for you? 
Classes like Media Foundations and Shopper Marketing allowed me to really widen my purview to speak intelligently with other teams or partner agencies. As an expert in social and emerging media, and with over a decade of experience in advertising, I wanted to diversify my classes to look far outside of my own bubble and push me to get a well-rounded view of other teams, departments and agency specialties.
I also had the incredible honor of enrolling in Global Perspectives, traveling to Asia and receiving a unique view of marketing within different supply chains, technology constraints and advancements, cultural nuances and different views into how consumers interface with brands. This fascinating immersion was a one-of-a-kind unforgettable experience and really broadened my horizon when thinking about global marketing efforts across my clients.
How has the Northwestern Medill network helped you in your career?
What's refreshing post-graduation is finding an incredibly supportive and engaged alumni network. Attending my first event earlier this year I was immediately welcomed into the family, meeting such smart industry leaders many of which I speak with regularly. The high level of involvement of my local association has made me feel so connected to Northwestern after graduating, even from afar, and it presents ways for me to continue to learn, network and give back.