Pooja Munshi
Pooja Munshi (IMC17)
Head of Web at United Nations (UN) Environment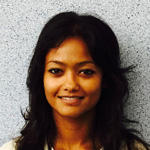 After leaving the advertising world in New York City, Pooja Munshi (IMC17) decided to take the next step in transitioning her career path by joining the IMC program. The unique classes and the flexibility of the format allowed her to expand her skills and network. Now working with the United Nations Environment Program in digital communications, she credits Medill with giving her the qualifications and recognition to get the job.
Tell us about your career journey.
It's been a career journey with meanders and leaps, all of which have kept me on my toes. I started in design, moved to advertising, made my way to strategic communications and now lean heavily on data to work on digital communications.
I started with the United Nations Environment Program in 2019 at the global HQ in Nairobi, Kenya. Northwestern Medill's IMC master's program definitely played a big role in helping me secure this job. A master's degree from a recognized university was mandatory, and our senior management was looking for a professional with data "chops" that could inform communication decision making. At Medill, I had opted for data-based classes and this ultimately came a long way in helping me in my job search.
What are your main responsibilities?
I lead all web activity in our ecosystem of 20 sites globally across nine languages. This includes digital strategy, execution, reporting, optimization, client servicing for all our sites as well as working with teams to develop public advocacy campaigns. In addition, I manage the overall eCRM (customer relationship management) growth and retention process, and I am currently involved in managing the data transformation process. 
How has the IMC way of thinking that uses both art and science helped you in your career?
The IMC way of thinking has restructured the way I approach work. From Stephen Hersh's Consumer Insights class that taught me about behavioral science to the deconstruction of brand strategy with Ariel Goldfarb to Scot Wheeler's fascinating take on digital analytics, to Pradeep Kumar's deep intel on Tableau--all of these are skills I use today in my current job.
Why did you decide to pursue your master's degree?
After about eight years in the advertising world in NYC, I decided to pause and take a leap. I quit my job and followed my husband to Paris for his new work assignment. This transition allowed me some constructive time to re-think where I was going next with my career path. The degree, the new information, and the network that came with it brought tremendous perspective.
The IMC program at Medill allowed me to work and engage in education at Northwestern from halfway across the world. My fellow students were outstanding mid-career professionals from Fortune 500 companies, and it was such a pleasure to share workgroups with them.
Have you been able to leverage the Northwestern and Medill faculty networks?
I've received fantastic references from the Medill faculty and are in touch with a number of the professors who I still exchange ideas with. It's been fantastic.