Santana Inniss
Santana Inniss (IMC19)
Vice President, Digital Programs at International Centre for Missing and Exploited Children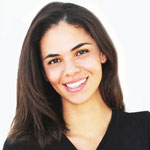 After freelancing and working in a marketing agency, Santana Inniss wanted to work in a place that had a mission meaningful to her. Now Vice President fo Digital Programs at the International Centre for Missing and Exploited Children, Inniss is putting the skills she enhanced in Medill IMC to work to help cities across the country become better places for citizens. "Medill IMC offered the rigor, the flexibility, the peers and the world-class professors I was looking for," she says. 
Tell us about your career journey.
My career journey has been somewhat non-traditional. As a recession-era college graduate, I couldn't find any job opportunities that would pay a living wage. I had taken some coursework in digital marketing and, necessity being the mother of invention, I decided to try freelancing in lieu of a traditional entry-level position. I took whatever work came my way in the space of digital, social, and web content; for six years, I grew a book of business that allowed me to work internationally, market across continents, and gain tremendous experience. Upon relocating back to the US in 2015, I transitioned into marketing agency work for several years. Ultimately, I wanted to do work in my field for a mission-driven organization, and that's how I got to where I am today at the National League of Cities in D.C., a resource and advocate for the nation's cities and their leaders. 
How have your Medill training and the IMC way of thinking helped you in your career?
IMC is everything. Pulling in finance and operations, organizational priorities and a deep understanding of our audience formed the basis of our digital strategy. My Medill IMC training gave me the language to sell IMC across the organization. It is the foundation of the strategic vision and priorities I've set for our digital engagement over the coming years.
Why did you decide to pursue your master's degree and choose Medill IMC?
I didn't study marketing in undergrad. While my experience in freelance and agency work was extensive, it siloed to digital. I decided to pursue my master's degree in integrated marketing communications to further my professional objectives. I wanted to become more well-rounded as a marketer and expert in areas outside of digital.
Already quite advanced in my marketing career, it didn't make sense for me to quit my job and take two years off for graduate school. The IMC program absolutely offered the flexibility I needed without ever compromising on quality or rigor.
Have you been able to leverage the Northwestern and Medill brand names to help you in your career?
While recruiting for my transition from agency to an in-house role, I certainly noticed the Medill IMC recognition and prestige. In many cases, it opened doors for me and increased my desirability as a candidate. 
What advice do you have for someone considering Medill?
What are you waiting for? I learned as much from my impressive peers as I did from my professors. In many cases, my professors came from the industry and had real-world insight as well as academic expertise in their areas of practice. I was able to take concepts I learned in class on a Monday and implement them in my work or meetings by Friday. It's just that applicable to the field of marketing communications. You will expand in your career during this program.
Anything else you'd like to add?
For busy professionals or those already advanced in their careers, the flexible format is definitely the way to go. While it may sound strange or you may not be certain how it works, I can't speak more highly about the experience. The quality and rigor of the education were uncompromised, and the asynchronized learning allowed me the flexibility to complete my degree while working full time in a demanding position. What's more—I made lifelong friends in this program, an added bonus I didn't think possible.