Sean Madden
Sean Madden (IMC17)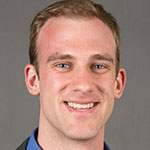 Associate director of business intelligence, Publicis Health Media
How did the IMC program help you get where you are today in your career?
The IMC program helped me see the bigger picture as it relates to being customer-centric. I now understand that a successful marketing strategy is more than just communicating a message; it's about resonating with people and fulfilling a need. I also realized that marketing communications can fit into a larger idea that leads to innovation and fundamentally shapes how an organization operates.
What skills did the IMC program give you to move forward in your career?
The IMC program made me think beyond the boundaries of what I considered for careers in marketing communications. It allowed me to be more analytical in working with data, which is critical to my current position in business intelligence and well-suited for my interests. My job now entails navigating through a variety of digital media metrics and weaving them into a cohesive story for our clients. Without refining these analytical skills in the program, I would not have pursued this path.
What was one of your favorite parts of your IMC experience?
My favorite part of the IMC experience was the Global Perspectives trip to Asia. It was a once-in-a-lifetime experience to see another region of the world and learn how companies there apply the IMC principles in different ways. I have countless memories from the various company visits and cultural immersion opportunities. All of my experiences from the trip would not have been possible had I not traveled there and observed them first-hand. I would strongly recommend this to any IMC student.