Steven Conway
Steven Conway (IMC19)
Omnichannel Strategy Director at IN Marketing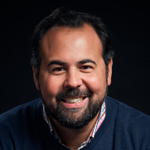 For Steven Conway (IMC19), the marketing world is second nature. He's spent years at some of the most prominent agencies in the country: Chicago's JWT, the Leo Burnett group, FCB, Edelman, and more. He now serves as an omnichannel strategy director for IN Connected Marketing where he focuses on shopper marketing.
Despite his extensive experience, he said IMC taught him that there's always more to learn. The consumer-centric curriculum and diverse courses both supported and accelerated his skills in the field. Having the IMC degree put him at the top of the list during a recent job interview process.
Tell us about your career path so far.
I have pretty much been an agency guy my entire career, getting my first job as an account planner with the historic advertising agency JWT in Chicago. I was fortunate to find a job in account planning and was exposed early to the theory of integrated marketing communications, creative strategy and consumer insights.
Throughout my career, I've worked in account planning which instilled the importance of walking in the shoes of the consumer and how the power of insight could drive brand growth. In the last two years, I have worked at IN Connected Marketing, which specializes in shopper and retail marketing, as an omnichannel strategy director.
What are your main responsibilities at IN Marketing?
My main responsibilities include providing shopper communication strategy for my clients that include Tyson, Edgewell Personal Care, Upfield Spreads, and Reckitt Benckiser. My focus is on understanding my clients' shoppers, their shopping attitudes and behaviors, and developing omnichannel shopper programs that can be executed at the customer level (e.g., Walmart).
How do you apply the IMC way of thinking that uses both art and science in your job?
Infusing art and science into my work is a constant part of my day-to-day. In most situations, I go from reviewing large data outputs and translating that information into a communication document that can tell a shopper story. Using data tools like Simmons, Nielsen or IRI, I take consumer and business data points and put a creative lens on them to help bring my shopper to life. 
Why did you decide to pursue your master's degree?
The driving force behind my interest to pursue a master's degree in IMC was to accelerate my career path, helping me bridge the gap between where I currently was in my job and where I wanted to be. While I already had the opportunity of working with prestigious advertising agencies and world-class brands, my career interests had changed. I believed pursuing a degree could provide me a stronger marketing foundation and help me make a move into a client-side position or spark my interest in pursuing another career path.
I chose Medill IMC because both Northwestern and the degree have a reputation that is unlike any other in the country. I believe in the philosophy of IMC and that solving complex marketing and business problems starts with being customer-obsessed.
How have the Northwestern/Medill networks helped you in your career?
The Northwestern alumni network has already made a tremendous difference. Both IMC alumni and the professors have readily made themselves available and have helped connect me with hiring managers in companies. There was a highly competitive position I applied for and learned throughout the interview process that my degree in IMC put me at the top of the list. It was in that situation where I saw firsthand the influence a degree from Northwestern had on employers and how it could help me advance in career.
What advice do you have for someone considering Medill?
For anyone considering the IMC program, my advice is that now is the time. Since I began the program in 2017, I have seen tremendous growth in my leadership abilities, marketing knowledge, and strategic thinking skills. As someone who was returning to school with 10+ years in the workforce, I learned there was room for me to grow and acquire new skills. The people you meet in your cohort are people you likely will be connected to for life and once you leave the program, Northwestern makes you feel like you're still part of a larger family.
Anything else you'd like to add?
If you are either looking to accelerate in your career or looking to advance with your current company, I would highly recommend considering Medill as an option for an advanced degree. As your career is a marathon and not a sprint, you need to look for ways to invest in yourself for both the short and long term. Medill IMC is an investment that can pay off if you're ready to take on the challenge.