Tiffany Hailey
Tiffany Hailey (IMC10)
Global Brand Management, SC Johnson & Son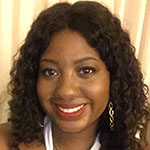 Why did you choose Medill?
I chose Medill IMC because I was seeking a marketing-focused degree. After researching both MBA and other MS programs, I chose Medill because of its approach. I liked that it taught an outside-in approach to marketing by using consumer insights and quantitative data to inform marketing strategy and tactics. I knew then that it was important to gain a deeper understanding of the consumers in order for a brand and product to effectively fulfill needs.
What is your fondest memory of your time at Medill?
I really enjoyed the time spent with classmates working on company-sponsored group projects. What I enjoyed the most is the bonding and camaraderie we experienced during the group work, in addition to each group member using each of his or her strengths to come up with a winning solution for the company or organization. One of our projects was for Rotary International to solve the challenges of recruiting young adults into the organization. My team and I worked on a proposition for Rotary that included the ideal profile of a young activist and ways to engage a young audience. Our idea won out of five other groups for the best idea that the organization can execute.
What was the greatest challenge you faced during your Medill career?
One of the greatest challenges I faced was selecting a concentration and path forward. I say this because when I went into Medill, I had in mind that I wanted to pursue a career in publishing upon graduation. However, after being exposed to disciplines across brand strategy, marketing analytics, and PR, I was unsure of what I wanted because each area piqued my interest after my first year. I had to take a step back and identify what I was passionate about in each area in order to make a decision on my future. Thankfully, the company-sponsored projects and, eventually, the summer residency helped to drive my decision.
What was your greatest achievement or best experience?
One of the best experiences I had was the opportunity to participate in the summer residency program working with Shiseido Cosmetics, a Japan-based global beauty company. My fellow classmates and I were tasked with solving a business challenge for one of Shiseido's brands in China. We traveled to China to speak with users and potential users of the brand to understand how young Chinese women shop for cosmetics in-store and online. After gaining a deeper understanding of the Chinese consumer and her online shopping and browsing habits, we recommended a communication and online strategy that addressed the beauty needs of Chinese women. That experience was invaluable and was the impetus for my career in cosmetics and global brand marketing.
How has your Medill training helped you in your career so far? Are there skills or lessons you learned at Medill that you still use today?
It has helped tremendously, and I use it almost daily in my professional career. I've been credited with keeping companies I've worked with honest in having an external view vs. an internal view within the new product development and commercialization process.