Todd Smith
Todd Smith (IMC05)
CMO, Partner and Founder at Cafe Rio Mexican Grill, CoreLife Eatery and Kitchen824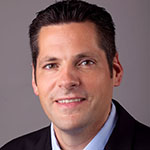 You were recently president and CMO at Sonic Drive-In? What were your main responsibilities there?
I led a number of teams, including advertising, digital consumer communications, product innovation, consumer insights and customer relationship management (CRM). Retail technology architecture and brand technology systems also reported to me, which shows the integration between Sonic's digital communications and CRM initiatives with the technology behind them. Overall, my main job was to ensure that Sonic is the most relevant food brand to consumers and their first choice when choosing a quick-service restaurant.
How did Medill IMC help prepare you for your career?
Medill IMC prepared me in every way to be a 21st-century marketer. It gave me the perfect mix of traditional marketing tools and skills combined with new tools and thought processes to excel in consumer marketing. IMC is a focused program that creates focused marketers who aren't afraid to take some chances, push the boundaries, and try new things. This is exactly what the marketing world desperately needs more of: fearless marketers.
What did you like about working for Sonic?
There are a lot of unexciting and mediocre marketing jobs out there. Working in the quick-service restaurant industry is rare because we got instantaneous and constant feedback from consumers in the form of sales. I loved that consumers got to tell me what they thought of my work on a daily basis by either buying more Sonic food or buying less. It was impossible to have our work remain anonymous, and I loved that.
How did you land the position?
When I came out of graduate school in 2005, I joined KFC, which is a division of Yum! Brands. It was my first taste of the food industry and I absolutely loved it. It is a challenging environment that is extremely fast-paced and that was perfect for me. After spending about four years with KFC, I had the opportunity to work for Wendy's in Columbus, Ohio. My time at Wendy's really deepened my understanding of the industry and of consumer needs and wants. In April 2012, I had the opportunity to join Sonic as the vice president of national marketing. We have been fortunate to have a lot of success while at Sonic and that led to me being promoted to chief marketing officer in May 2014 and then president in January 2016. Now, I'm on a new adventure, also in the quick-service restaurant industry, as CMO, partner and founder at Cafe Rio Mexican Grill, CoreLife Eatery and Kitchen824.
What do you wish you had known on your first day at IMC?
Graduate school is unique because it is the only time in your life where you can take huge chances and risks without any consequences. I wish I had internalized that more and then taken much bigger risks with my thinking. There is no need to play it safe in graduate school.
What's the top reason to go to IMC?
Medill IMC is one of the few marketing programs in the country that is training marketers for the current paradigm in the marketing world. Medill IMC was ahead of its time in integrating data-driven decisions into every aspect of marketing. IMC teaches students how to manage the extraordinarily difficult task of being data-driven while trusting and developing your intuition. Marketers who do that will be miles ahead of their peers.