Yumi Huh
Yumi Huh (IMC17)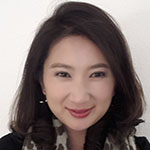 Director of Marketing at ModuleQ - Chief AI Storyteller
How did the IMC program help you get where you are today in your career?
I took the IMC Program after 15 years in marketing due to the rapid changes happening in marketing due to the digital revolution. I felt that I needed to go back to school to be a better marketing executive and fully understand the potential of new digital tools, communication strategies and inbound marketing concepts.
What skills did the IMC program give you to move forward in your career?
The classes around behavioral sciences, storytelling and financial accounting were pivotal. I really enjoyed how IMC teaches the combination of different business subject matter that can help all the students become better general managers and business people. I joined this program as part of a company-supported development and leadership plan. It far surpassed my expectations, and I know that what I learned here will help me throughout my career.
What was one of your favorite parts of your IMC experience?
My favorite part was learning the academic theory while working full time. I was able to apply new learning immediately into initiatives I was working on and would often share new concepts with my organization. This helped me up-level my output and gave me the business vocabulary in which to communicate effectively with to my senior executives.