Asim Ahmed
Asim Ahmed (IMC18)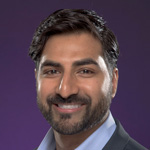 Marketing Manager, American Medical Association 
A manager at Digitas, Asim Ahmed (IMC18) decided to go back to school and enrolled in the IMC part-time program in Downtown Chicago. While in the program, he gained a new role as an associate director at Resolution Media. Near the end of his time in IMC, he made the transition to the client side by taking a position at the American Medical Association.
How did the IMC program help prepare you to pivot your career from working in agencies to working on the client side at the American Medical Association? 
The IMC program provided me with the proper toolset for a marketing strategy role.  The core curriculum provided me with a strong understanding of marketing best practices in a large enterprise. Also, the financial courses helped me navigate key conversations smartly.  
What skills did the IMC program give you that helped you move forward in your career? 
The IMC program allowed me to develop strategic framework for navigating between different organizations and managing large marketing programs.  It's prepared me for bigger-picture thinking to be showcased in an executive presence in strategic marketing conversations.  
How did the IMC network, career support, etc. help you in your job search? 
The IMC network is vast. I have successfully been able to reach out to former IMC Alums and schedule informational interview sessions to learn more about a given role, or seek advice on a challenge at work.  It's helped me tremendously to build a strong cohort of marketing professionals to lean on for career advancement opportunities. It also provides a shared knowledge base for tackling difficult marketing problems in my day-to-day role.  
 What was one of your favorite parts of your IMC experience? 
I enjoyed the accelerated Martech course taught by Jonathan Copulsky.  I was in a room with other marketing professionals, which allowed me to expand my network and learn about critical issues I'd encounter in my current role, particularly in regards to leveraging technology to automate marketing processes.