Chris Hahn
Chris Hahn (IMC17)
Director of Marketing, Hospitality & Real Estate at Kohler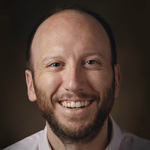 What do the Medill Integrated Marketing Communications master's program and ice cream have in common? They may both be to thank for alumnus Chris Hahn's (IMC17) job at Kohler.
When the bubble burst on a majority of internet startups in New York, Hahn joined Kohler, a large manufacturing company known for its plumbing products. Due to starting the IMC program, he was asked to run the advertising division responsible for Kohler's hospitality unit. Hahn's job in high school was at a local ice cream shop, so hospitality was right up his alley.
Thanks to the flexibility of the program, he was able to travel for his busy job and be an active, new father.
How have your Medill training and the IMC way of thinking helped you in your career?
It doesn't just help me every day, it guides me every day.  The examples are innumerable. At its core, the IMC way of thinking has given me empathy for the consumer that only comes with an understanding of the craft. Beyond the tenants of IMC, the surrounding core curricula have allowed me to be a strategic contributor across disciplines: public relations, creative execution, data analytics, corporate finance, media planning, digital voice and more across the board.
Why did you decide to pursue your master's degree and choose Medill IMC specifically? Was the flexibility of the IMC program beneficial for your life and career?
I chose to pursue my masters because I was becoming aware that all my curiosities were not being met by simply managing the B2B marketing and B2B sales of the Kohler interior design division. I sought to have a greater impact on our brand, but I also had respect that it was a craft that needed a modern understanding to be able to meaningfully contribute. I saw no other path to fulfilling my curiosity and career goals than to pursue this through the innovator of modern marketing thinking: Northwestern.
What is an experience or class from the IMC program that stands out for you? Why?
It's really a tossup between three: the core IMC theory and practice classes, Managing Integration and the two classes I took on-site with my peers.
I reference the core classes every day. I work with my business leaders to understand and rethink customer journeys and collaborate on how to put the consumer at the center of everything we do. Managing Integration taught me about Highly Reliable Organizations, a mindset that really impacted the way I defer to my peers, leaders, and contributors now, and what I believe to be the type of organization I appreciate working within. Finally, the on-site classes are invaluable because you're able to connect with eager, curious peers excited about the journey you're all sharing together. They not only become your network and your friends but also invaluable confidantes.