Tiffani Stevenson
Tiffani Stevenson (IMC20)
Director of Customer Experience at Staff Management | SMX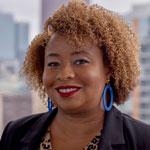 Tiffani Stevenson (IMC20) started her career in human resources doing recruitment. She says that she always had a passion for connecting people with opportunities while providing great experiences, which is what led her to digital marketing sales. In those roles, she discovered her love for strategy, connecting the dots and getting people from point A to Z.
Now as director of customer experience at Staff Management | SMX, Tiffani gets to put her passion for strategy to good use by gathering customer insights and turning them into results in order to increase revenue, retention and new product offerings.
Why did you decide to pursue your master's degree and choose Medill IMC specifically?
Unlike an MBA, I wanted to master a specialization and focus. I didn't want to be forced to take core classes that would not benefit my longterm career goals. In looking ahead at potential jobs, I noticed that more and more leadership positions were no longer saying MBAs were exclusively preferred; a master's degree was being listed more frequently so it was a more logical path for me. I also wanted an in-person experience, so being able to take courses in Chicago was a big help—along with Northwestern being a top-10 school. (Editor's note: IMC Professional students have the flexibility to take courses online, in person in Chicago, or a combination.)
Tell me about your transition from senior marketing manager of talent attraction to your current role at the same company?
It was a matter of timing. The position was posted just as I was finishing up at Northwestern. We previously had a third party facilitating our voice of customer needs and while it was successful, we still weren't getting the strategic insights needed to have an effect. My organization wanted someone from inside the organization who understood how we operated but wasn't in operations. Coming from corporate, I am a neutral party. I do think my Northwestern Medill degree helped me obtain this role since I am now focused on the customer. The IMC program is very customer-centric, so having that knowledge and understanding of consumer insights and customer lifetime value definitely helped me show my value and the value of a Medill IMC degree.
What is an experience or class from the IMC program that stands out for you?
I took a weeklong course in London, working on a brand that was started by a fellow IMC alum and woman of color. It is my goal to one day work for a global brand and live abroad. Just being able to experience it all firsthand was very eye-opening and memorable. Looking at the customer and marketing lens from an international perspective, seeing the similarities and differences, I would have never had that opportunity otherwise.
How has Medill Career Services helped you in your career?
The programming that they facilitated in my first year was amazing. They had several programs that featured alumni and BIPOC that have had very successful careers. Representation matters for me, so it was important to see that within the field and through Northwestern. It allowed me to see the potential and opportunity that a degree from Northwestern Medill could provide.
How was the flexibility of the IMC program beneficial for your life and career?
The structure of the program was great. I was simultaneously planning my wedding and being new (less than six months in) to my previous role, so I was wearing many hats. The flexibility and understanding of the professors was great. Most of them acknowledged that we were working professionals and planned coursework accordingly. They were also great about pulling in real events and incorporating them into the curriculum.
What advice do you have for someone considering Medill?
If your goal is to have a career in marketing and communications, do it! The program is in a great place with great leadership. There is tons of flexibility in the classes you can take and you can make the program your own. Once you finish the program, you're forever a part of this family that includes some of the best marketing and communications professionals in the world. Alumni remember being in your exact position while in school and are always available to help.