Alex Presha
Alex Presha (BSJ09)
Multiplatform reporter at ABC News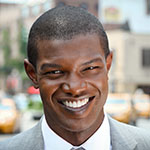 What is your fondest memory of your time at Medill?
There are so many to choose from, but I remember the day I learned our student newscast won a national college Emmy Award. We had a great group of students running our newscast at the time, and I always remember feeling like we had a good flow. But the national recognition was confirmation of that. It was also a great confidence boost as I prepared to enter the job market.
What was your greatest achievement or best experience?
During my senior year, two friends and I produced an independent study documentary on the murder of former Northwestern University men's basketball coach Ricky Byrdsong. It was the 10-year anniversary of his death. None of us had ever produced a documentary before. It took us out of the state, and we had only two and a half months to research, shoot and put together the 22-minute piece. It was a great stretch for all of us and, ultimately, it was something we were all proud to show.
How has your Medill training helped you in your career so far? Are there skills or lessons you learned at Medill that you still use today?
In every job interview I've had, my prospective employers have all noted the prestige of Medill. A few were actually graduates themselves. It was an automatic connection. They understood the rigor and the seriousness with which graduates approach the craft. I joke that Medill has kept me employed since graduation. Still, with every good joke, there's a kernel of truth.