Cristy Garratt
Cristy Garratt (BSJ10)
Head of Digital Video and Social Media at CNBC International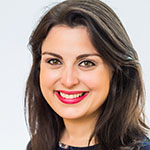 Why did you choose Medill?
I always knew I wanted to be a journalist, and I wanted to go to the best school to prepare me for that career. I visited and researched a number of universities, but Medill stood out by far: great journalism program, part of an excellent university and a location full of stories waiting to be told. My time as a Journalism Cherub only solidified that Medill was the school for me.
What is your fondest memory of your time at Medill?
My Journalism Residency in Cape Town, South Africa, was a very special time for me. Not only did I get invaluable experience as an international journalist during the 2009 election and lead up to the FIFA World Cup, but I also made fantastic friends I still keep in touch with today.
Why do you think Medill is unique?
Medill combined the two things that were the most important to me: fantastic academics and practical application of your skills by doing actual journalism. Not only did I leave Northwestern better educated, but I knew how to put that knowledge to use.
What was your greatest achievement or best experience during the program?
It's a toss up between winning the coveted College Television Award with the Northwestern News Network or helping our chapter of the National Association of Hispanic Journalists become a nationally recognized chapter. So much hard work went into those moments, so it was incredibly rewarding to have it all pay off.
How has your Medill training helped you in your career so far? Are there skills or lessons you learned at Medill that you still use today?
Journalism is evolving so quickly. I knew digital was going to be important to my career, but I don't think I quite realized how central it would become. At the core of it all, Medill taught me to be a good storyteller, and that's a skill that will always be key, no matter how much the industry evolves.
How have you tapped into the Medill network in your career?
My latest hire, Elizabeth Schulze, is a Medill alum! I posted the job opening on social media, and a mutual friend of ours spotted it and encouraged her to apply. She was the top candidate in the bunch, and now she just joined us in London. We worked together on NNN, so it's funny to see it all come full circle.