Emily Glazer
Emily Glazer (BSJ10)
Reporter at The Wall Street Journal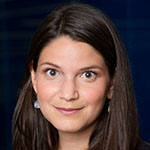 Why did you choose Medill?
Besides its stellar reputation as the top journalism school in the country, I loved that there was a mid-year internship opportunity (Journalism Residency) to get more fieldwork experience. I also wanted to be a part of what was then known as the Medill Innocence Project (now the Medill Justice Project), which investigated potentially wrongfully convicted murderers.
What is your fondest memory of your time at Medill?
I loved working on high-impact articles and getting to collaborate with a bunch of other students on The Daily Northwestern, which I eventually led as editor-in-chief.
What was the greatest challenge you faced during your Medill career?
Interviewing Hank Skinner on Death Row in Texas for the Medill Innocence Project was one of the most challenging and gratifying opportunities. I'll never forget it.
Why do you think Medill is unique?
Students have access to real-world journalism through their Journalism Residencies, giving them a leg up on internships and future job opportunities. The students are also of the highest caliber, so we learned from each other on student-run journalism organizations like The Daily Northwestern.
What was your greatest achievement or best experience during the program?
One of my favorite journalism stories comes from my freshman year at Medill. I worked on an article looking at whether Northwestern University discriminated against women when granting tenure to faculty members. I threw myself into the reporting toward the quarter and, with the help of my editor, wrote an article I was really proud of. Fast forward to my first professional internship at The New York Sun that summer. I received a call from the professor I largely wrote about, who was denied tenure. She told me that the university had reversed the tenure decision, and that she didn't think it would've happened had I not written the article shedding light on what was happening. It was the first time I could see the impact journalism can have.
What advice do you have for someone who might be looking to pursue a degree in journalism? Or IMC?
This industry is changing rapidly. I suggest you understand several different platforms, not just one. For instance, I don't consider myself a newspaper reporter. I write for wherever the reader is going to consume the story (which is increasingly on a phone). I also have to be prepared to go on television to talk about my reporting, join podcasts or help create videos to accompany our reporting. I also suggest journalism students, especially those interested in business journalism, take an accounting class. I wish I had a better foundation in accounting upon joining The Wall Street Journal.
How have you tapped into the Medill network in your career, either using it to get a job or to hire fellow alumni?
I got my first internship and first full-time job through alumni connections, so am grateful and always aim to pay it forward. One of my professors connected me to a Northwestern alum, who got me an internship at the now-defunct New York Sun, where she was an editor. I got my Wall Street Journal internship, which later turned into a full-time job, through a Northwestern alumnus who was then a WSJ editor.